On April 17, 2012 at 2:30 AM, closing time, RaymondTaavel and an unnamed friend leave MenzAndMollyz and began walking south. Shortly after there was a verbal assault -- "FAGGOT!" said one eyewitness.
An eyewitness describes a large man, about 260lbs who attacked the two smaller men. Another reports that Raymond got between his friend and the attacker, who then turned on him. The friend managed to run away while Raymond's head was pounded repeatedly into the pavement.
MenzAndMollyz owner DougMelanson says that the Halifax Police responded immediately, were respectful, and treated everyone with dignity; the canine unit quickly found 32-year-old Andre Noel Denny in a nearby alley.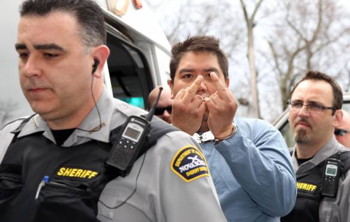 Denny heading for appearance at provincial court in Halifax to face charges of second degree murder, April 2012. (Photo: Herald staff)
1997

Andre Noel Denny, then 18, diagnosed with schizophrenia, a paranoid subtype, coupled with a substance abuse problem, Nova Scotia Supreme Court documents show.

September 1, 2009 & 2

Denny charged with causing "unnecessary injury" to a dog, possession of stolen property (the dog), uttering a death threat to his neighbours and breach of probation, while in Eskasoni.

2011

Denny tasered by police when he was arrested after a seven-hour standoff at Membertou. At that time he was charged with aggravated sexual assault of a woman, uttering threats and unlawfully confining her.

January, 2012

Denny sent for treatment at the East Coast Forensic Hospital in Burnside after being declared not criminally responsible due to mental illness.

April 17, 2012

Denny had not returned to the East Coast Forensic Hospital in Dartmouth after a one-hour leave that afternoon. RaymondTaavel was murdered that evening.

April 18, 2012

Denny appeared in court and on the same day, there was an announcement that there would be a review of Denny's release.

June 19, 2012

Denny's psychiatric report delayed until August

August 8, 2012

Denny's psychiatric report further delayed until September 20, 2012

November 27, 2012

Denny's assesment is finished but is kept secret. "Mr. Denny has the right to a fair trial and discussing that report would disclose a fair amount of evidence." Defence lawyer DonMurray? has not made any move to contest Denny's fitness to stand trial. ChronicleHerald article here

February 19, 2013

Preliminary hearing postponed; Denny has fired lawyer Don Murray. At the beginning of the hearing, Murray questioned the mental health of his client. Judge Bill Digby put the matter off until March 19, 2013. Crown attorney Darrell Martin told reporters that he "Has some concerns about whether or not (Denny) is fit" to stand trial. "Fitness is something that is dynamic," he explained. "We have no evidence that (Denny) is not fit other than what he has said in court today."

March 19, 2013

Murray said he met with Denny and Denny's family Monday, and agreed to take the case once again. The dates of Denny's preliminary inquiry have now been set for July 8 – 10.

April 20, 2013

Raymond's family - commonlaw partner DarrenLewis?, mother Suzanne Blatter and brother Andre Taavel launches a lawsuit against Capital Health & the province, for financial compensation for funeral costs, travel expenses, future income that Taavel would have earned and the loss of his "guidance, care and companionship." Represented by Halifax lawyer Aaron Ward.

July 10, 2013

Preliminary inquiry has wrapped up. Trial dates will be set next week.

September 6, 2013

Trial date is set for eight weeks beginning September 2, 2014. On the first day, Denny announced that he was firing DonMurray?, saying he was "no longer trustworthy." Denny will next appear on September 25, 2014 to present a new lawyer. Crown attorney DarrellMartin? said a new trial will not likely begin until next year, as Denny's new lawyer would need time to go over the case files, but it depends on who is chosen to represent him.

December 11, 2014

Trial rescheduled to 2016. Lawyers David Mahoney and Robert Gregan will represent Denny. Judge Simon MacDonald? said during the hearing that he expects Denny's trial won't be until 2016 because it requires a two-week voir dire and four weeks of hearings. The date will be set when lawyers return to court on Jan. 15.

January 15, 2015

Six week trial set to start October 19, 2015.

September 28, 2015

Denny fired lawyer Don Murray at the last minute. Denny is now represented by Nova Scotia Legal Aid lawyers David Mahoney and Constance MacIsaac?. The trial rescheduled for six weeks beginning April 11, 2016.

November 10, 2015

Denny pleads guilty to manslaughter instead of second-degree murder. The description of Raymond's death is horrific and brutal. His sentencing is tentatively set for Jan. 25 and 26.

December 8, 2015

The Nova Scotia Department of Health formally apologizes for Raymond's death. The public apology was one of the conditions set by Taavel's family before it would drop a lawsuit filed against the province.
"On behalf of the Government of Nova Scotia, I sincerely apologize to the family and friends of Raymond Taavel," said Minister of Health Leo Glavine, whose department is responsible for the East Coast Forensic Hospital, to members of the Nova Scotia Legislature.
Marc Dunning, the lawyer who represents the Taavel family, outlined what was behind the request for an apology: "The family saw that as a necessary element to obtain their closure in this tragic situation. The family certainly accepts the apology. Recognizes the work that the government has done in the wake of Raymond's death and is now ready to move forward as best they can to put this behind them."

January 25, 2016

Sentencing hearing adjourned until February 22, 2016. It is expected to last one day and include three victim impact statements, a surveillance video from inside the bar where Denny met Taavel and possibly a video tribute to Taavel produced by Halifax's gay community.

March 24, 2016

sentenced to just under eight years in custody.

December 5, 2017

Criminal Code Review Board decided Andre Denny will continue living in the East Coast Forensic Hospital and maintain Level 2 (L2) community access privileges. L2 means a patient can have access to the community while directly supervised by medical staff or an approved person/family member.

April 9, 2018

Denny is able to work up to L-4 level of security: he will be allowed unescorted passes from the hospital for up to 14 hours at a time

December 5, 2018

The review board has increased Denny's privileges, giving him a "level 5," which allows him to live outside the East Coast Forensic Hospital in a bungalow on the grounds of the property.

December 4, 2019

Nova Scotia's highest court has dismissed the Crown's bid to reverse a decision to grant more freedom to a mentally ill man convicted of fatally beating a well-known gay rights advocate in 2012. He has completed the sentence for Taavel's murder but remains at the forensic hospital because of an earlier offence.

December 7, 2020

Denied a conditional discharge that would have allowed him to live in the community full time under certain rules. Doctors say he consistently takes his medication on time, has remained sober, and has not had any recent acts of aggression or violence, but review board chair Suzanne Hood said while Denny should be congratulated on his progress, there have been some "blips."