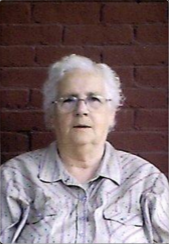 Ca. 2008
Ann MacMullin
October 12, 1928 - 2008
Founding member of GAE and partner of DianeWarren.
JohnMarr writes: Ann, quietly masculine partner of DianeWarren, parent to Tamara (Diane's teen daughter) was a staunch supporter of GaeGala. Involved mainly due to her support of Diane she was intensely loyal, and watched in rather quiet bemusement of the inner rivalries that occasionally came to fore - she would only voice her strong opinions when she found points too inane to belabour or when anyone challenged Diane or close acquaintances. Well liked and accepted, she remained somewhat aloof from the fray and, I believe, she finally was persuaded to retire from GAE when it consumed too much time and energy for her family. She had a great, dry sense of humour that could be infectious.
Ann wrote her own obituary:
"I was born in Sydney Mines, Cape Breton, on October 12th, 1928, the youngest child of Neil R. and Mary S. MacMullin. I leave behind to finish their journeys, my heartmate Dianne, our children Tara Lynn (Andrew) Belyea, Marjie (Craig) Bennett, Eric (Lori) Warren; our grandchildren Aurora Ann, Samantha, Colby, Karlie, Wesley, Cory (Pasqual), Justin, Christopher, Michelle and our great-grandsons Cayden and Jared. I am survived by my sisters Christina and Rhodena, my sister-in-law Margo (Peter) Bernard, my mother-in-law Marjorie Dillman and many nieces and nephews. Predeceased by nine brothers and sisters."