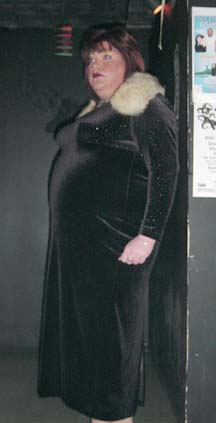 Anna Conda, the artist formerly known as Kuntella Fistuella, AKA DJ NITRO, has been in the city for several years now. She is an awesome performer and is best known for her impersonation of DIVINE.
Debbie Duke Diamond writes: Okay....I have seen this girl spit on people(not that that's funny.. he he),practically swallow a beer bottle(starting from the bottom up,NOW THAT'S TALENT!),fart bluntly in public,pick her nose onstage, and out run the cops on many occasions after flashing them her BIG BUSINESS!I'm sorry to anyone else with an ego,Junior....you are still the ONLY DIVINE....and I know if she were alive today, she'd be incredibly impressed! Jenna and I are still your biggest fans and I hope someday you change your mind,make an appearance and giv'em all a little taste and putt'em all in their place! LOL!!! love you, and miss all those coffee runs.Jenna says hi ;) take care. Deb.XOXO
MarshaMellow: another wicked queen alot of us oldies miss. and yes Divine WOULD be impressed. Diva D, youre good, but u will never be the cunt/dirty bitch Kuntella is/was. I see Kuntella at work now and she hasnt been out in years, actually was my first time seeing her in like 3 years. shes all shacked up now and residing in Truro (far as i know). Be nice if ya make it out some night JUNIOR, as a guy OR girl, doesnt matter, we used to have some wicked times.