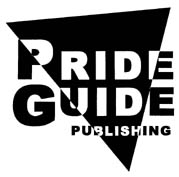 The Pride Guide was a l/g/b/t community directory, sort of a "Yellow Pages" published in Halifax by ChrisAucoin operating under the name Pride Guide Publishing. The first issue was published in 1995 as a Halifax-focused edition. The second edition was published in 1997 by Niche Publications under contract. Pride Guide Publishing resumed publishing the directory and expanded it to cover all of Atlantic Canada for the 1998 and 1999 editions. In 2000 Pride Guide Publishing skipped a year with the directory and published instead the OUTeast 2000 Visitors Directory & Map of Atlantic Canada targeting l/g/b/t tourists. The Pride Guide resumed publication again for two more maritime editions (dropping the Newfoundland section) in 2001 and 2002.
The publisher said, Our goal is to provide a directory of the businesses, services, and organizations that support the lesbian, gay, bisexual, and transgendered communities of the region, and that welcome us as customers, service users, and participants.
In 2003 Pride Guide Publishing published the one-time magazine 30 Years of Halifax Pride: A Souvenir History Magazine. See HalifaxPrideSouvenirHistoryMagazine.