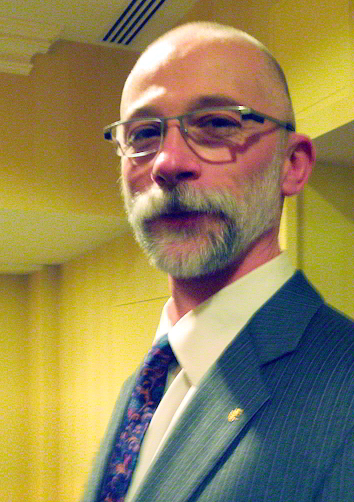 Chris in 2011. Photo by AnitaMartinez
B. 1964, Chris has been active in the gay community for most of his life. Chris trained and performed for a number of years as a professional figure skater.
Chris was one of the two first and only program coordinators for GaeGala and published the PrideGuide 1995, PrideGuide 2001, the AtlanticCanadaPrideGuide and the HalifaxPrideSouvenirHistoryMagazine. He was active with GaeGala from 1987 until its death, LesbianGayRightsNovaScotia, GaeGala's running of The Turret and Rumours, the GAEZETTE and WayvesMagazine 1990 - 1996, and more recently, MacLeather. He produced and organized countless leather shows, variety shows, His graphic design talents are magnificent and Chris' posters have graced Halifax bars since the 1980s.
Since 2008, Chris has worked at AIDSCoalition, first as gay men's health coordinator and, starting in December 2019, as executive director.
A search on his name in the encyclopedia (by clicking the title of the page, above) will show a few of the many things he's been active with.
ChrisAucoin is one of the HistoryPeople.
This page NeedsBio.
NeedsContent: should write more detail about Chris' involvement with The Turret