Bob McKay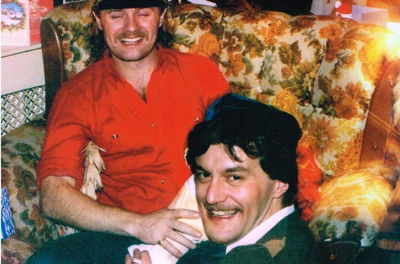 Jan. 6, 1984: Bob & Graeme Olde Christmas Party
1948 - November 3, 1991
Bob was partner of GraemeEllis and worked as a radio announcer with CFDR.
His published death notice: Robert James (Bob) McKay - 43, Oxford Street, Halifax, died Sunday in Victoria General Hospital.
Born in Corner Brook, Nfld, he was a son of Ruby J. (Reader) McKay, Halifax, and the late Wallace McKay. He is survived by a brother, Ted, North Bay Ont.; maternal grandmother, Mrs. Edna (Nan) Reader, Paris, Ont,; paternal step-grandmother, Mrs. Blanche McKay, Corner Brook; several aunts, uncles, cousins; a niece, a nephew.
---
This page NeedsContent NeedsBio and NeedsPicture