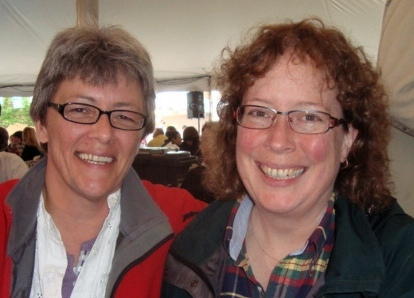 Jo & Brenda, 2010
Brenda Beagan was raised in an ultra-Catholic family in rural PEI, yet still grew up to be a lesbian! Blame it on university... She came to Halifax to attend Dalhousie University. Studying sociology introduced her to critical thinking, feminism, and the realization that things in the world around us need not be the way they are... and if they are the way they are, it's probably for a reason.... which probably has to do with power relations.
Her first activist moment was a student protest march in 1985, fighting tuition increases. Brenda went on the march reluctantly, and wound up carrying the bullhorn and leading chants! That year, she joined a women's group on campus ([[DalhousieWomensAlternative?|Dalhousie Women's Alternative]], a feminist alternative to the more conservative women's society on campus) and found some lesbians. Yay! She was thrilled to discover women who cared about feminism, fought for human rights, protested apartheid, worked against poverty and for the environment, and took on issues of racism and colonialism within themselves. And loved to go dancing. After a year or so she came out herself, in time to attend the first Halifax Pride March in 1987. It was small but mighty.
Leading chants became a passion, and in 1989 Brenda and AnneBishop founded TheSecretFuries, a women's a capella singing group that lead chants and sang at rallies, demonstrations and fundraisers for social justice causes. These were exciting times in Halifax activist circles, protesting the first Gulf War, and the annexation of Mohawk land at Kanesatake, commemorating the Montreal Massacre, organizing annual TakeBackTheNight and International Women's Day events, opening Patchwork women's center on Dalhousie campus... After the Furies folded in 1992, Brenda helped found The Women Next Door singing group.
From 1994 to 2000 Brenda was in Vancouver, pursuing a PhD? and postdoc in sociology, where she was a member of the Vancouver Women's Chorus. She was delighted to sing alongside lesbian and women's choruses from Seattle and Oregon and well as with the Vancouver Men's Chorus. She also helped start the Sapphic Songweavers, a 7 voice a capella lesbian chorus that (again!) lead chants and sang at rallies, marches and demos.
Back in Halifax since 2000, Brenda now teaches at Dalhousie in the Faculty of Health Professions, School of Occupational Therapy. Prior to that she has earned a living as a farmer (with friends in Hants County), a waitress (too many places to list), a chambermaid (too many places to list, sigh), a retail clerk, a roof-shingler, a research assistant, and a contract researcher. Today, Brenda's research and teaching concern how social inequalities (like racism, sexism, heterosexism, homo- and transphobia, classism, ableism, and ethnocentrism) affect people's everyday lives, people's health and well-being, and the education and practice of health professionals. She lives in Halifax's North End with her partner Jo Lang.