The Secret Furies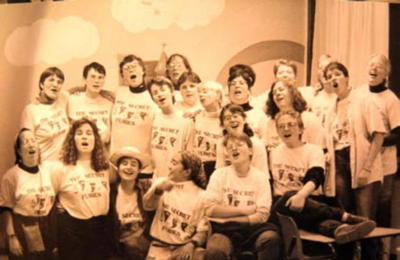 In the winter of 1989, AnneBishop asked BrendaBeagan if she'd be interested in starting a women's chorus. Anne and Brenda had sung together in 1987-1988 with SueAtkinson? and SueMcKay? in a quartet called Lysistrata. In March, 1990 Anne and Brenda sang together at an International Women's Day variety show at VeithHouse. At the end of the set, Anne and Brenda invited any women interested in singing to meet at Bloomfield School a couple weeks later. About ten women showed up, and a group was born.
We rehearsed at Rumours, a gay and lesbian club on Gottingen Street, in the third floor former projection room. On the wall was a poster for a 1950s movie starring Claudette Colbert, called "The Secret Fury." Hence our name! Sue McKay? created fabulous T-shirt graphics for us.
A core principle was that women didn't have to 'be able to sing' to join us. So many had been told in school to please just mouth the words! Women learned in vastly different ways. And women moved from terror, to singing with confidence (in harmony!), even to conducting the group and composing original songs and arrangements. Most of us had no musical training. Learning to sing often triggered growth and healing in other parts of our lives.
Our intent was to use music for social action. Our songs were overtly political – feminist, lesbian and gay positive, anti-war, pro-environment. We sang often for rallies, marches and demonstrations. We would teach simple, repetitive choruses or chants to crowds and they would take off with the music, multiplying the energy exponentially.
We sang at demonstrations for Lesbian and Gay Rights Nova Scotia, and against the occupation of Mohawk territory during the Oka crisis. We sang at peace rallies during the (first) Gulf War. We sang at events for International Women's Day, Lesbian Conferences, Wild Women weekends, December 6 memorials, Take Back the Night and Gay Pride. We sang at fundraisers for Stepping Stone, Elizabeth Fry Society, Services for Sexual Assault Victims, The Transition House Association. We sang at a rally to protest the elimination of funding for women's programs, then at a celebration when funding was restored. We sang when Donna Reid and Starhawk came to Halifax to release Donna's films 'Goddess Remembered' and 'The Burning Times.'
The group grew quickly, peaking at 25 or 30 women. Of course singing for political action, every song lyric became ripe for debate... Political differences among us became more and more obvious, about feminism, sexuality, how 'out' lesbian members were, the extent to which the chorus was or wasn't lesbian-identified... Add to that the usual feminist processing around leadership and decision-making—where does authority come from? what does it mean to be equal and still have leadership? what is true consensus? how do you incorporate differing skills and knowledge and still be equal? Processing became too much a focus in our final months and, sometime in 1992, we folded. Several women moved on to sing with The Women Next Door in Halifax, and another a cappella women's chorus in Truro.
Two smaller groups formed from the Furies former membership, one based in Truro and the other in Halifax. The Halifax group became The Women Next Door. They still sing together and have represented Nova Scotia at the Canadian Festival of Gay and Lesbian Choruses.
(photo, Page 10 of the July 2009 Wayves)
There are recordings of the group in the AnneBishop fonds
June 23, 1990 & July 2, 1990 Rehearsals
November 3, 1990 performance at the Halifax Launch of the NFB film The Burning Times (link to "Tape4_SideA?") • Round And Round The Earth Is Turning • 1:45 Intro: Welcome from Burning Times Collective Burning Times: song by Trom? Murphy Witch Hunt by ?? Wooshie Schnel ?? Songs: • 3:30 River Of Birds • 4:48 Witch's Song • 11:08: recording paused • 11:08: Round And Round The Earth Is Turning • 12:35 Under the Full moon • 14:12: Witch Hunt / Burning Times • 19:55: Earth Air Fire Water, Return • 28:00 end
December 6, 1990 Montreal Massacre Memorial (mp3, audio recording) Eye Level Gallery: • 00:00 Recording ID • 00:15 There Comes A Time • 01:07 Intro to Dec 6th song • 02:05 A Winter's Night December 6: Song about the murders at Ecole Polytechnique • 08:27 You Can Forbid Almost Everything • 10:20 Fight Back • 13:50 Keep on Walking Forward.
December 17, 1990 Furies Solstice Party (mp3, audio recording starting at 16:55) 16:55 Russian Lullaby Practice • 19:45 Three Wise Women (by memeber Quita Gray)
March 8, 1991 International Women's Day
May 4, 1991 Women's Health Education Network Conference
October 25, 1991 Truro Women's and Children's Dance
From a 1991 AnitaMartinez photo. There are a hundred photos of the group in this album, available in the archives.
CarolPutnam?
JanMorell?
Brenda ??
Ann The Doctor
DebbieMathers?
and many more
More photos in
AnitaMartinez album W # 8, Take Back The Night 1990
A competition in Truro, later in the album, W # 8, Take Back The Night 1990
And their First Anniversary event, 1991-03