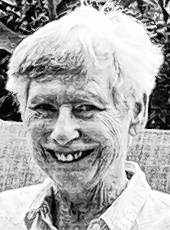 Catherine Margaret Mary "Cathy" Harvison
ca. 1945 - February 14, 2020
Str8 obituary
Born in Montreal, Catherine moved to Nova Scotia in 1979 and resided in Lumsden Dam, Wolfville. She leaves behind her sister, Jean, Montreal; and brother, Normand, England. She will be fondly remembered by her childhood friend, Robert Grandfield, and her best friend, Kari, with whom she cofounded "Down to Earth Gardening", an award-winning business which they ran for 35 years. Cathy was well-known for her passion for animals, gardening, cooking and was an avid reader. Cathy will be remembered for her feisty spirit and her love for debating on many topics. Her wishes are honoured by cremation, no visitation and no funeral service. The celebration of her life was accomplished throughout her entire life.
JohnMarr writes: Cathy moved to Halifax from Montreal in the mid-seventies and became a member of GAE due to friendships with me and other members of the time. She was a tiny whip of a thing with a sharp mind, no room for fools and a tongue that would tell you so. She had a great sense of humour and great strength of character -- along with a vicious Siamese cat that was, thankfully, clawless.
She had a tight circle of long-time and newer friends here, and after finding a life partner named Kari, moved to the Gaspereaux Valley area where they operated a successful landscape company. As of 2003, they remain there, but alas, I am told Cathy has been in poor health, and not having been in contact for a long time I can but wish an old friend well.