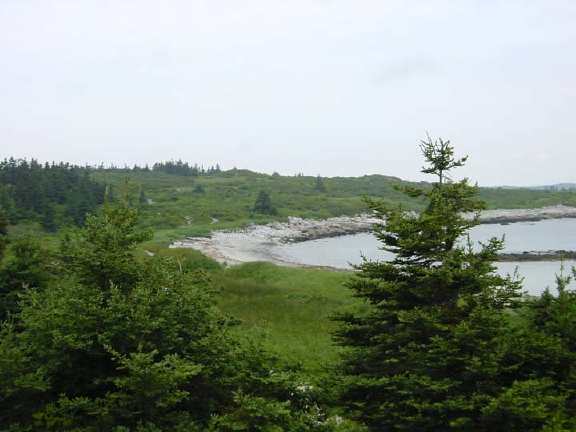 Crystal Crescent Beach is a clothing optional beach about a 45-minute drive outside Halifax.
The terrain is similar to Peggy's Cove, extremely rugged granite beauty interspersed with salt marsh, juniper, cranberries, blueberries, wild flowers of every kind, with three distinct sand beaches in use, numbered in the order of walk from the first parking lot. ; 1st beach: family beach ; 2nd beach: more oriented towards partying teenagers ; 3rd beach: clothing optional. near side is str8, far side is gay. Everyone gets along, there is no homophobia (or str8 bashing for that matter) among the users of the beach. You must not litter. The str8 nature-ist crowd keeps the beach very tidy, to the point of raking and if there's any source of friction, it's between them and the litterbugs. Don't even leave cigarette butts or twist ties on the beach, please.
After the 3rd beach, there is a several-mile path through the woods, and a parallel path along the rocks on the shore, where you can hike and cruise and there are private niches for play. About 2 miles in there is a small point, place where you could camp overnight with a nearby stream. After that, there are another couple miles of big fields of cranberries and blueberries depending on the time of year.
Directions
GPS Coordinates
Trail Head: 44° 27.568' N / 63° 37.295'
3rd Beach: 44° 27.049' N / 63° 37.199'
Point with stream: 44° 26.682' N / 63° 37.490'
The drive from Halifax is a pleasant one with three different routes you can take. Your first challenge however, is to survive the Armdale Rotary. No easy task if the traffic is heavy. If you do survive, I recommend taking Highway 253 (Purcells Cove Road) which will take you along the North West Arm and along the shore to the small town of Sambro. Enroute, you may wish to stop at the Dingle Tower in Sir Stanford Fleming Park, and the old fortifications at the York Redoubt National Historic Site. Continue on 253 to Herring Cove, then turn left on Highway 349 and essentially follow the signs to the beach from there. The access road to the beach is a rough gravel road with ends at three large parking lots. Park in the last lot. The Prude beaches are right below you with the nude beach of to your right.
To get to the nude beach, you have to follow various paths that head south from the parking lot. The paths can be rough so good footwear is advisable. It is about a twenty minute walk, so make sure you have everything you need. I found the best and most scenic route was to follow the shore. After all this trouble you are finally rewarded with a beautiful stretch of white sand beach, about 200 meters long.
See also: OutdoorCruisingAreas, AtlanticCanadaClothingOptionalBeaches - also has a section on beach Etiquette