That is, nude beaches.
Nova Scotia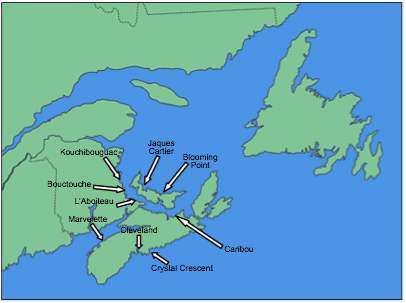 2005
CrystalCrescentBeach, the main gay hangout
Three mile long Martinique Beach, near Musquodoboit Harbour off route 7. The upper half of this great sandy beach has been use by nudist for past 15 years.
Caribou Beach near Pictou on route 6 is a nice 2 mile long beach. Leave car at the Provinicial Picnic grounds and walk north about 15 minutes.
Cleveland Beach at Queensland on south shore is excellent cruising grounds on weekdays during July and August. Leave car at the picnic grounds and walk past the beach, follow the small trail to end at the small wooded area. Lots of fun time there boys.
Another hot beach is Mavilette Beach, at Cape St. Mary's off route 1, west of Digby. This is a 1 mile long beach and lot of fun in the sand dunes. July 2005 Note: this is not a clothing optional beach, it is watched and patrolled by the RCMP pretty regular.
New Brunswick
Bouctouche Beach, a 8 mile long beach. Walk about 20 minutes past the 1.9km board walk.
Kouchibouguac National Park NE shore 3 km from St Louis de Kent. Take the boardwalk at Kelly's Beach to the main beach and turn right. Walk for about 45 mins to get to the gay area!
L'Aboiteau Beach near Cap Pele (Moncton region) From route 950 take the dirt track, "Chemin P'tit Cote" by the Petit Cafe des Allemandes (German cafe with German flag flying). Park for free in the parking lot behind the cafe. If you drive further you will have to pay to park. Walk down the track to the beach and turn left. Beautiful sandy beach with dunes, though the dunes are fenced off due to erosion damage by pedestrians.
Prince Edward Island
Blooming Point NE shore. From Charlottetown take route 2 north. At Tracadie take route 219 towards Stanhope. After a short distance take right turn along route 218 to Blooming Point. Continue along the road. Just before the road turns into a red dirt track, take the left hand turn (still paved). It too, will turn into a dirt track, but will lead to a free parking area and the beach. Turn left at the beach. Piping Plovers are Canada's endangered gay birds, since they are always found nesting next to gay beaches. Please don't go beyond the posts defining their area, they are very shy and don't like to be seen unclothed.
Jacques Cartier Beach This is a 4 mile long Beach. Leave car at the provinicial camp and picnic grounds and walk 20 minutes past the campgrounds.
Here are some links for lists of beaches:
These are a great way of MeetingPeople and are always OutdoorCruisingAreas.
Beach Etiquette
Please keep the beach area clean and pristine. Take all of your garbage with you when you leave.
Help to preserve the dunes by using the trails and paths provided.
Respect the privacy of others by keeping a comfortable distance.
Nudity is permitted on the beach area only. Please cover up if you leave it. Always respect hikers using the trail behind the beach - they may not be comfortable with nudity.
Sexual activity of any kind in public is illegal.
Don't photograph anyone without his/her permission. Never take photographs of children.
Loud music, excessive consumption of alcohol, offensive behavior, and activities that disturb others' enjoyment of the beach are never welcome and may be illegal in a Provincial Park.
Comments & Reviews
CapnDan says:
KellysBeach: a bit of a hike. Kind of sparse when I was there, no surprise, Kouchibouguac is kind of out in the boonies.
CrystalCrescentBeach: one of the most beautiful places in the world, I think.
Bara says:
Martinique Beach - I've visited this beach on many occassions last year and have never seen a nude person on the beach.. I think this is mostly hype.