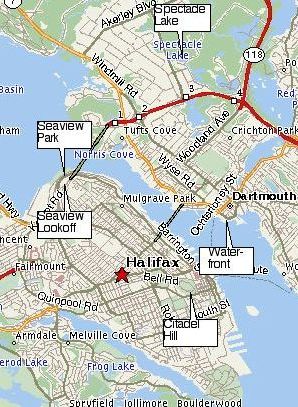 Halifax
CitadelHill - see its page
Seaview Park and Seaview Lookoff in the north end of the city. The Lookoff is accessable from the very north end of Gottingen St (except it's called Novalea Drive there) Seaview Park is accessible from Barrington Street. Daytime cruising for the Lookoff, nighttime for the Park. Chronicle Herald, August 5, 2005, Cops will be on bikes there This is a warning.
Dartmouth
SpectacleLake, at the top of the Burnside Industrial Park. It's a beautiful wilderness setting and a nice walk even if there weren't horny guys wandering around. See SpectacleLake for October 2004 warning from the police department.
The Dartmouth Waterfront between Canal Park and the pyramid thing. Daytime and evening cruising and some people have reported action late at night.
Bedford
Range Park, Bedford, along the paths near Sackville River
Just Outside HRM
CrystalCrescentBeach is a nude beach, there's always action at those. In this case there are three beaches, it's the third one and beyond where cruising happens.
When fucking outdoors, be a good camper, don't leave kleenexes and rubbers on the paths.
---
Historical: in the '80s, CampHillCemetery was a gothic fantasy.
---
Winter 2003: Judging by the tire tracks in the snow by Spectacle Lake at 5 this morning, it looks like things happen there at night, as well.
---
Anyone know of any cruising areas in Spryfield?? Haven't heard of any myself and wondering why there is a park that isn't used (park between corners of Northwest Arm Drive/Old Sambro Rd and corner of Dennith/Old Sambro Rd on the water side). It has easy walkable trails and a few "discrete" areas to go off to.
---
Does anyone know of a cruising area in the Annapolis Valley called "The Loop"? I got asked by a tourist over the weekend and I'd never heard of it.
You may want to check out other Halifax CruisingAreas or ways of MeetingPeople.