Douglas Fevens
b. ca. 1956
Doug was born in Yarmouth but his family lived in Halifax. His first home was the PMQs of Windsor Park, a family of 8 in a three bedroom apartment, who still made room for visitors.
"I've known all my life I was gay," he says in an interview with CBC's Mainstreet on June 25, 1996 CBC.
In the summer of 1970 his father retired from the army and they moved back to Yarmouth.
In 2017 he created the Yarmouth Pride Twitter & Facebook accounts.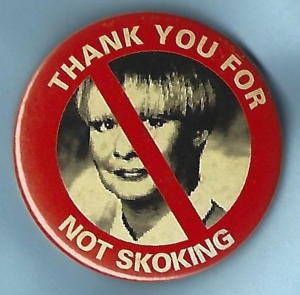 In the latter part of the 1990s I worked at Dartmouth Adult Services Centre (DASC Industries) as a casual instructor for the clients. At one of the work stations they made buttons that were once a popular promotional tool. I came out to the staff as gay (today I self identify as queer) when I was the speaker for an employee workshop on July 8, 1996. Some time after that, RoseanneSkoke, (probably during her 1997 or 1998 campaigns) was being called out on remarks she had made in 1995 calling us "unnatural and immoral." I asked the button "production manager" if he would help me make a "Thank You for not Skoking" button. He agreed and I made up about a dozen.
March 31, 1996

Doug led a service at the UnitarianUniversalistChurch in Halifax entitled Do I Have a Place Here? A Gay Man's Search For Community. It was reviewed by Georges Merinfeld:
In an extremely moving, personal account, Doug told us of his difficult, wrenching journey towards self-affirmation and psychological liberation as a gay man "coming out" after many years of society-imposed regression and a few years of occasional, often inconclusive psychological treatment -- until he finally "came out" and moved from the country to Halifax in order to develop a sense of community. Doug communicated, with special power, through his own story and through readings, a sense of "the war zone called the closet", the too often little-known sufferings society inflicts on gays and lesbians: teenage suicides, missed adolescence, society-enforced unhappy marriages etc. One of the havens of acceptance Doug found in Halifax was our church of which he has since been an active and enthusiastic member.

June 25, 1996

Interview with CBC Mainstreet. Marking Gay Pride Week, Doug talks about coming out, growing up in a rural area, being in the closet in another city, his relationship with the UnitarianUniversalistChurch. "There is a true celebration of being gay." Doug shares part of his sermon, "On June 1, 1993 I was admitted to the Psychosocial Unit at the Kings Regional Rehabilitation Centre..." Audio of that interview is here. This recording is in the OralHistoryCategory.

February 4, 2005

Responded to Archbishop Terrence Pendergast's January 29, 2005 homophobic family oriented full page ad in the ChronicleHerald, pointing out that not long before, the Catholic church had systematically destroyed native families and condoned rape and other abuse at Mount Cashel. "Faimily is family -- family is where there is love." Full text here

July, 2022

Red Pill, Blue Pill - something of an autobiography, on file.