Elaine Walcott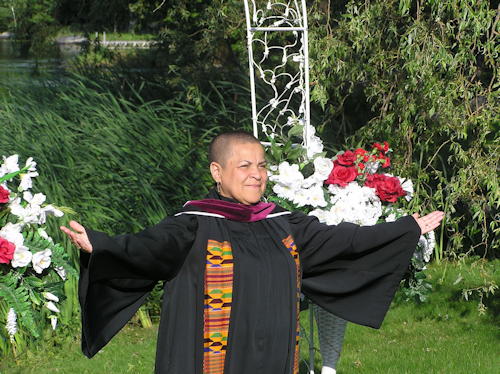 September 2011
Founder and pastor of KoinoniaChurch.
I was born in Lincolnville Guysborough County, N.S. the eldest of ten children to Blanche MacLellan & George Albert Borden. Married my high school sweetheart Joseph Walcott in Dec 1979; became Mother of Preston and Christopher.
Joe and I have fostered for Dept of Community services as licensed parents to four children over a ten year period. I graduated in 2000 and 2002 from AST with a Bachelor of Theology / Master of Divinity degree.
I completed a residency in Psychiatric Spiritual Care with CAPPE in 2003. The first African Nova Scotian with a Baptist background to do so. I served as a spiritual advisor to the late Dr. Tom Faulkner @ University of Winnipeg and as a professional ecumenical chaplain At IWK Health Centre.
Rev Elaine is qualified and available ro provide crisis support and spiritual care for an honorarium to you and those for whom you have concern and may benefit from Spiritual Care visitation. As a Baptist cleric I practice a theology of bible,church, religious and soul freedoms. I have designed an Equal Marriage Ceremony liturgy that is all inclusive as Jesus is.
My husband Joe fully supports my vision for ministry which celebrates God's covenant to love God's own creation.
I can be reached by phone 902-876-8771 or email address: RevElaineWalcott@bellaliant.net