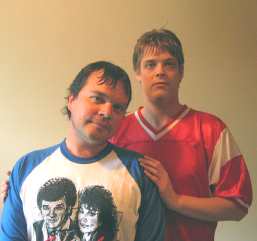 The happy couple: writer Michael Best as Gary and Kevin Curran as Terry.
November 2005
Halifax based Fat Morgan Theatre launched a new play, GayWhiteTrash, written by actor/comedian and up-and-coming playwright Michael Best and directed by Fat Morgan Theatre founding member Marty Burt. Gay White Trash ran at The Crib, 2103 Gottingen Street from November 22, 2005 to December 3, 2005
"I'm very excited to launch my first full-length play," said MichaelBest, who wrote and is starring. "It's been in development for a long time starting out as a 15-minute sketch. Working with Fat Morgan Theatre has helped to make the production a reality."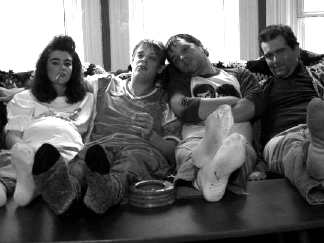 The cast lounging from left to right: Tara Doyle as Joyce, Kevin Curran as Terry, writer Michael Best as Gary and Lex Gigeroff as Kendal.
Gay White Trash tells the story of Terry and Gary, economically disadvantaged life partners from rural Nova Scotia who have just moved to the "big" city. Gary wants to experience the kind of lifestyle a place like Halifax can afford gay men. Having moved to a rather low-rent area of north-end Dartmouth, however, he's missed the mark. When Gary meets a supposedly worldly and sophisticated gay guy, Kendal, at the mall where he works and invites him home for dinner against Terry's wishes, we find that being accepted into the "community" means many different things for many different people. It is a darkly sweet comedy about two members of the misguided and misinformed gay underclass.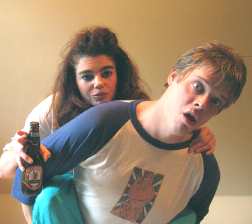 Horse play -- Tara Doyle as Joyce on the back of Kevin Curran as Terry.
Michael Best has written for several Canadian productions such as Street Cents, Popular Mechanics for Kids, Olliver's Adventures and This Hour Has 22 Minutes, for which he shared a 2001 Canadian Comedy Award for Best Writing in a Series. Michael is also co-founder of Birdy Num Num, the outrageous Halifax comedy ensemble that earned him a second Canadian Comedy Award nomination for Best Sketch Group in 2002. Michael also created, wrote and starred in a series of three comedic shorts called Ace in the Hole that has screened at film festivals in Australia, Vancouver, Toronto, Halifax and Hamburg. His 2003 solo debut comedy show Audible Minority had a successful run in March, 2005 at the Second City's Tim Sims Playhouse in Toronto. Gay White Trash is Michael's first, full-length play.
Director MartyBurt? has been working for Atlantic Canadian theatre companies for the past 15 years. Some of these include: Theatre Newfoundland and Labrador, NeptuneTheatre, Theatre New Brunswick, The Irondale Theatre Ensemble, Live Bait Theatre, Two Planks and a Passion Theatre, Mermaid Theatre of Nova Scotia and The Stephenville Theatre Festival. Marty's first one-man show Mad Dog Racing was the first production staged by Fat Morgan Theatre company, of which he is a founding member.
With JackieTorrens? as dramaturge, Gay White Trash also features veteran performers of the local stage and screen: KevinCurran? (Birdy Num-Num, Neptune Theatre, Live Bait, Two Planks and a Passion, Eastern Front, Irondale Ensemble, Forerunner Theatre); Fat Morgan founding member TaraDoyle? (If the Weatherman Left his Wife, Birdy Num Num, Trailer Park Boys, Lexx, Parsley Days); and LexGigeroff? (Alexander Sextus: The Conclave, The Wild Guys).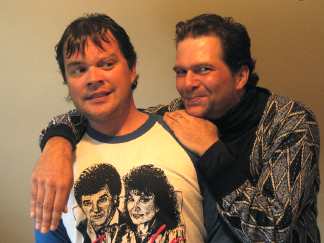 Getting a little too cosy: writer Michael Best as Gary and Lex Gigeroff as Kendal.