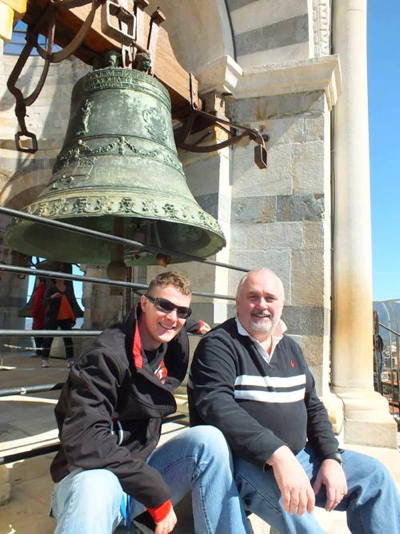 Hal (R) and his partner David Archibald at the top of the Tower of Pisa, ca. 2013.
Hal Forbes August 5, 1955 - August 24, 2018
If you are reading this note it ought to be apparent that I am no longer around. To some of you, it is not news that since February, 2017, I have been battling inoperable stage four tongue cancer. The first round went without incident and they deemed me an unprecedented success. Then at the end of July, 2017 the cancer came back with a vengeance. Plan B was instituted and I had been responding positively during this past year. Unfortunately the cancer has reared its ugly head yet again and it appears this will be its last hurrah.
Many thanks to my cancer team; doctors, dentists, opthamologists, nurses and technicians. Your care and kindness through this ordeal was greatly appreciated.
I thank my close friends for all their care and support on this journey. I thank my crew for all the good years at Forbes Restoration.
I have enjoyed a life with great friends, rewarding careers and lots of travel. I have had 18 amazing years with David.
My travels around the world with Rita MacNeil were great fun - from the wee island of Barra to the London Palladium and the Sydney Opera House. It was an honour and a privilege to work with such a magnanimous lady.
I have particularly enjoyed my travels with David.
I have loved my work from the very beginning; costume design, design and production manager at NeptuneTheatre, working with Rita MacNeil? on tour and on television and my restoration business. I have enjoyed working on numerous Halifax homes, inside and out, offering custom Victorian architectural details that did the homes and their owners proud. I have been honoured to be a citizen in Halifax's North end for 35 years. So anytime you're missing me, you can take a tour of "Hallywood" and see me in the details.
Recently I have been collaborating with students at Holland College Restoration Carpentry program and on smaller projects with younger students here in the neighborhood.
So, over and out, Hal
---
Before his death, Hal sold the space at 2172 Gottingen to gay businessman Adam Barrett, BlackBay Real Estate Group.
Design & Restoration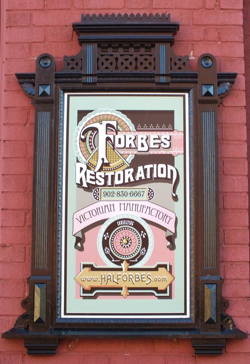 Here are some photos of Hal's masterful design and restoration work. Click on a title to see the full size photo.
---
Scott MacNeil writes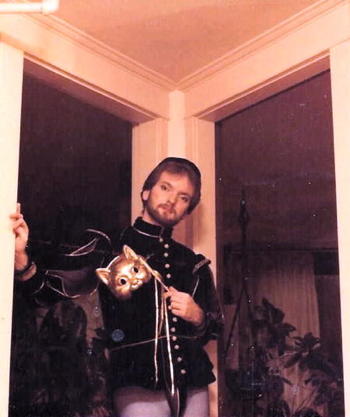 I first met Hal Forbes after contracting him to make Little Bo Peep costumes for a Lamb Promotion at The Delta Barrington circa 1981. Impressed with that, I had an idea for a Halloween Costume...a Blue Velvet Romeo entry. I still own that piece and although it no longer fits, it's coveted. Thus began a friendship that lasted 38 years. Known for his attention to detail, the following pics are what he excelled at, design and result. And it wasn't just about buildings. His body of work covered many aspects of design from Costumes, Parades, Heritage , Buildings and yes even lamp shades!
He studied theater design under RobertDoyle - any student who completed that course was known as a "Doily!"
Hal said, "It's like I haven't really left the theater. My applause just comes from a stranger in a grocery store who comes up to me and tells me how much pleasure he gets from one of those buildings."
PatrickDaigle writes
I was completely shocked and saddened to learn of Hal Forbes passing today. This man had passion! His commitment, insight and talent as consultant to the YouthProject renovations over the years was valuable to me. He was wise, fair and told it like it was. I valued every interaction...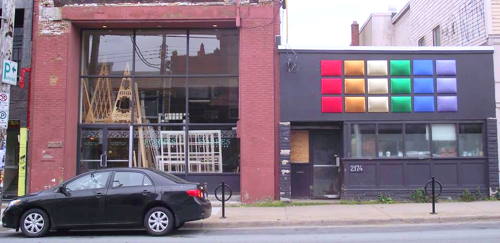 Forbes Restoration Pride livery, 2017