Robert "Bob" Doyle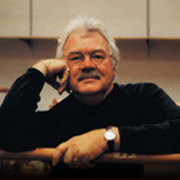 2014 Facebook photo
December 12, 1936 - November 13, 2019
Born in Edinburgh, Scotland, in 1936 he made Canada his home as a very young boy. Robert lived his life with passion and began his theatrical career as a dancer with the Royal Winnipeg Ballet. When injury ended that journey he became the Resident Designer at the newly-formed NeptuneTheatre in Halifax in the early 60s. This was only the beginning of the many theatres he would design for across the country.
JohnYogis writes: The Canadian and Nova Scotia arts community has lost a most distinguished member. Robert Doyle had a wide and varied theatrical career. His skills and talents will be remembered by many Nova Scotians as an early Resident Designer at Halifax's Neptune Theatre, head of the costume program at Fortress Louisbourg in Cape Breton, founder of the Costume Studies Program at Dalhousie University, and costume designer for the Royal Nova Scotia International Tattoo. He received the Order of Canada in 2008 for his contributions to Canadian theatre.
It was said that any student who completed that course was known as a "Doily!"
DrBobFredrickson mentions him on the OverThirtiesGroup page. He writes: Because he was a patient, I can't say too much. He was very talented in his field, and methinks he knew that, as he didn't suffer fools. But once you both got past that, he was a genuinely nice man.