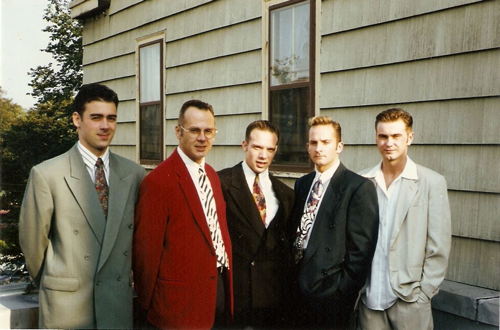 Summer 1988: StephenJay, BillSoper, MichaelHudson, JohnMerkley, MervTingley.
Bunch of "glamourous" guys, about 20-strong, centred around John Merkley from 1987-1997.
Merkley worked at the Chateau Halifax, and hung out with a group of the most beautiful men in Halifax: Bill Soper, Daniel Peck, Merv Tingley, Randy Miller, Andrew MacDonald, Todd Morrissey, Walley Vaters, TrevorCharlesBrewster, and others less known. Club was at out of a house on tower rd. All dressed to the "9's" but were waiters, bartenders at the hotels downtown Halifax. At the end, some went to the Jay Wells crowd, others moved on.
TimHare? says, "They were always good to me and VERY good tippers"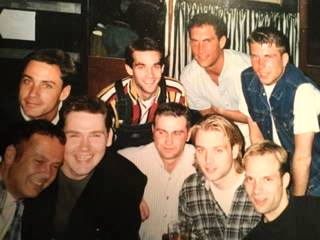 1988/1989: L to R front row: BillSoper, ChuckGillis, MervTingley, JayWells, Michael Hudson; L to R back row: RandyMiller, TrevorAdams, Daniel Peck, John McNeil