NSCAD Queer Collective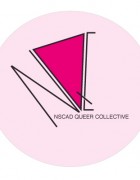 From Google profile: "In and OUT is an unofficial group of LGBTQ students at NSCAD who are interested in being visible to each other and creating a friendly space both at the school and amongst ourselves. It is open to all students and faculty interested in creating an environment, in and out of school, for people to be themselves. It will hopefully promote a more accepting climate at NSCAD and in Halifax."
2013

"As part of the Khyber's 125th birthday, The NSCAD Queer Collective recreated The Turret bar which operated from 1976-1982 on the third floor of the historic building." Wayves Article here and planning meeting notes from March 1 here.
Contact info:
This is one of many StudentGroups.