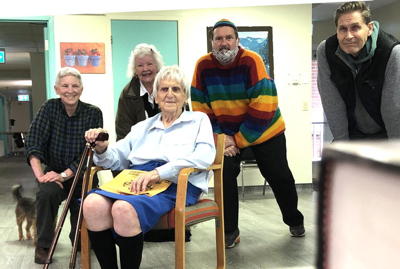 ---
May 4, 2020: AllisonBrewer, AnitaMartinez, DanielMacKay and BarendKamperman (and Smoky) gather to help Patricia celebrate her 97th birthday.
Born May 4, 1923
Having last written a poem in 1952 while aboard the ship bringing her as an Irish immigrant to Canada, Patricia Martinson gave up poetry until the mid-1970s. For the next forty years, she never stopped writing. Her more recent poems focus on a variety of topics including mishaps at sea, weather, people, ships, travels and partings during her decades-long career in the merchant navy. Now in her 90s, Patricia has turned her attention to revising and editing her work, with a view to eventual publication.
On January 14, 2018 she brought her book of works to an Elderberries Second Sunday Salon and she and others read some of the poems. Here are a couple captured on video:
97th Birthday
On May 4, 2020 a team of ElderBerries planned a non-contact flash sing outside of Patricia's window. Things didn't go as planned. AnitaMartinez takes it up:
We have been thinking for a couple weeks now...97 years...that should account for something way more than sitting the day alone in a room...WOMAN OF THE WORLD AND ALL...she just can't...we thought...we schemed...we worried..we checked in...we went to the back, front, side...kneeled and looked further ...and AllisonBrewer finally said, THAT'S IT! ... and she disappeared into the interior of the building..that appeared well sealed..and she was gone...and then...with an absolutely incredibly big smile..we heard her yell..."I'VE GOT HER!, SHE'S HERE!" AND slowly out of the interior followed by a woman in a blue jacket with the biggest smile on her face...like she discovered GOLD...(and she did!)
Dan prepared Smoky for the exciting escapade..and picked up Barend...and they were off also...FINALLY TOGETHER..WE WERE ABLE TO WISH THIS AMAZING 97 YEAR OLD WOMAN OF THE WORLD ADVENTURER ...HAPPY BIRTHDAY...AND WE SANG… AND she looked happily over at Allison with a big old happy smile!!!
We all then slowly left for our little safe places in the world...BUT CERTAINLY NOT UNHAPPY at our little successful adventure...HAVE A FANTASTIC WEEK EVERYONE...BE HAPPY...BE HEALTHY...and big invisible hugs to all!