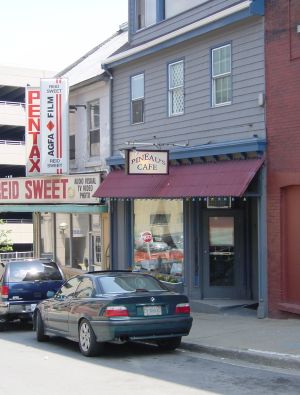 July 2004
History
Pineau's Cafe was the gay restaurant in Halifax in the 1990s. This is not exaggerating; it was the only one. The takeout menu read, "A relaxed and intimate dining room offering generous portions at reasonable prices." It was registered with the RJSC on April 25, 1996.
There is a mention of it first opening in Wayves correspondence in September, 1996 , suggesting a possible review in the October issue. Pineau's closed in March, 2007.
It was at 5190 Blowers Street, just below Barrington and is wheelchair accessible, fully licensed, and air conditioned.
CapnDan writes: "Good prices, good queer service, nice atmosphere for business or a date. The proprietor, AlanPineau, is a major supporter of queer events in the city."
Philip The Waiter says, "The single most popular thing, quoted by Gourmet Magazine as 'Can't be beat' is our Fish and Chips. Other popular menu items are the Panfried Fresh Haddock, the Seafood Chowder, and the Spinach Salad."
Some samples from the 2004 menu:
Fish And Chips Made with fresh haddock. Served with fresh cut fries and coleslaw. 1 piece $7.00 / 2 pieces $9.25.
Panfried Fresh Haddock with rice and vegetables $11.95
Seafood Chowder Thick and delicious with haddock, scallops, shrimp and salmon. Cup $5.95 / Bowl $6.50
Spinach Salad Fresh spinach garnished with mushrooms, bacon, egg, mozzarella cheese and mandarin oranges, served with lemon poppyseed dressing. Small $5.95 / Meal Size $6.95
This is part of the HistoryProject