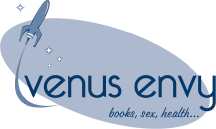 Halifax's queer-owned book, health, & sex shop in downtown.
Lots of dildos, lubes, body paints, dildos, rubbers, fetish gear, cock rings, dildos, books, and candles. Oh, and a few more dildos.
Opened in 1998 with a sibling store opening in Ottawa several years alter. Both stores offer books, toys, safer sex products and a popular sex education workshop series. We have frequent store events including readings, speakers from out of town, and other community events.
Contact Info
History

1998: Venus Envy was founded in spring by ShelleyTaylor on Inglis Street in Halifax.
I envisioned a place where people could feel at ease browsing sex toys, reading books about sex, and gathering for community events. In 1999 the store moved to it's current location on Barrington Street where we tripled our size and started offering regular workshops as an ongoing series. In January 2001 we opened a store in Ottawa and then in 2005 moved that store to the Ottawa gayborhood.
1999: Store moved to 1598 Barrington Street
2008: MarshallHaywood? took over as owner.
May, 2008: Venus Envy's 10th anniversary story ran on page 1 of the May 2008 issue of WayvesMagazine.
April 21, 2013: ShelleyTaylor recounts the opening of the business in WayvesMagazine.
June, 2021: Crowdfunding campaign launched to help offset costs of location move after being renovicted.
July 2, 2021: Re-opened at 1727 Barrington Street after a brief closure for the move.
One of Halifax's GayBusinesses.