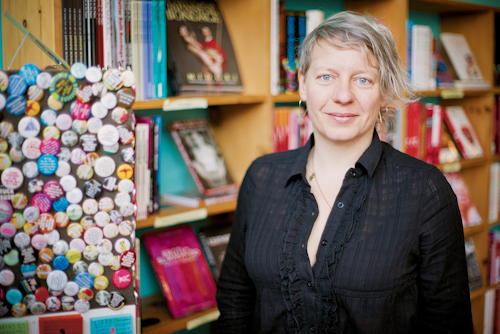 Source: Capital Xtra
Shelley Taylor
Reprinted from TheCoast June 7, 2018, "Coast 25: Queer, now and then"
Shelley Taylor was 29 years old and had $6,000 of cashed-in RRSPs when she started VenusEnvy — the now-iconic Halifax sex shop and bookstore — in 1998.
Taylor had moved back to Halifax from Ottawa and was running a catering business but wanted to do something different. She went dumpster-diving for furniture and flooring, bought piles of second-hand books, ordered a couple thousand dollars of sex toys and opened the first Venus Envy location on Inglis Street. "It had almost no stock whatsoever It looked like a gallery," she says, laughing. "Here is a vibrator!" Taylor and friends made the space into a "beautiful, kind of femme-y" store with soft seating, tea, cookies and flowers.
The store was an attempt to provide a sex-positive, women- and queer-friendly space, where people could ask questions, feel comfortable and be respected.
"It was only a couple of years later that I realized that why I really wanted to open Venus Envy was to try to heal some of the stuff that was broken in me from a sexual health perspective," says Taylor. At the time, Taylor felt a lot of shame around having herpes, which she contracted at 18. She was also in a long-term romance with a queer man and wasn't able to find any resources about relationships like hers. When she did finally confide in someone about her relationship, the person — who assumed that all gay men were HIV-positive — reacted with horror.
"Also, I needed a job," she adds jokingly.
The store was well-received first by "the south end ladies," as Taylor calls them. Then "tonnes of people started showing up who just seemed so excited and so relieved because they were seeing themselves reflected in a space and in the books and in what we were doing." The 1998 Pride Parade was held three months into Venus Envy's operation. It poured that year and Taylor remembers people coming to the store post-parade, wearing handmade Pride T-shirts and adorned with buttons. "It was jammed with all of these wet queers and I was thrilled." That day prompted Taylor to relocate to the more central 1598 Barrington Street, where Venus Envy remains to this day. Opening day on Barrington was also the first day of the job for MarshallHaywood?, Venus Envy's first full-time staff person and future owner.
Taylor sold the Halifax location in 2008 and the Ottawa store in 2016 after burning out years before. She still does sex ed, but would like to do more, and volunteers for Action Canada for Sexual Health and Rights which provides information on reproductive and sexual health. She currently has an "awesome" job with the Ottawa Tool Library, and two years out she no longer misses Venus Envy, though she still gets to be involved in the fun stuff, like the recent 20th anniversary. "To get to see the stores surviving, thriving and doing things differently than I would have done them—but in the 'Oh that's a great idea' kind of way," she says. "And interacting with these incredible staff people who have come on since I've been long gone. That to me, that's joy."