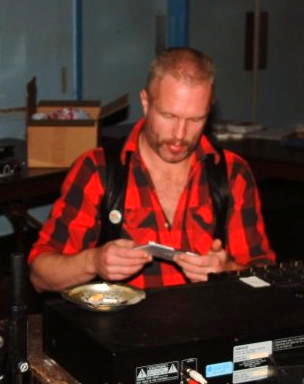 Wolfgang Fillmore
June 26, 1967 - November 4, 2022
Dan MacKay writes:
Any party, any event with Wolf was epic. He had a need for everything around him to be extraordinary, larger than life, funner than life. I always thought that this was from becoming HIV+ early on in the epidemic, and feeling like he was living on borrowed time, and he was going to make the most of every minute, every hour he had.
One of the ways was very regular parties at his and Jim's place on the Eastern Shore. These were, yes, epic. There would be a very unwholesome mix of drunk and stoned, city and local, gay and straight guys and -- hijinks always ensued.
Mike Teal and I spent so much time at Wolf and Jim's - every other weekend for a long time - that they suggested we get our own place! Wolf found a vintage Winnebago for $500, we had it towed to their property and we ran an extension cord and water hose out to it, and that was our home there! There are some photos of that, here.
Wolf and Jim got enthusiastically involved with the Musquodoboit Harbour Farmer's Market and he fulfilled a lifelong dream of being a chocolatier. During the week Wolf would make chocolates, and on market weekends anyone there would be busy wrapping the variety of flavours and shapes in tiny cellophane or foil squares.
Wolf had a condition called synaesthesia - in fact, his chocolate company was named for that - where he could taste colours and see sounds. He was an extraordinary disk jockey - effortless, able to smoke and joke and mix tracks all at the same time - and he had an unerring sense of what the right music was for a particular time of the evening. He had a massive collection of vinyl and a much more massive collection on his computer which was the usual music source at parties and dances.
He was the driving force behind WayvesMagazine's regular fund raising dances... at the Ostrea Lake Fire Hall!!! Again, epic! Wayves would get a special event liquor license, we'd buy $600 worth of booze, Jim would run the door, RaymondTaavel would tend bar, and we'd come out of a Saturday evening with $500 in the bank. Straights and queers would come from a hundred kilometers in every direction - there was a regular minivan full of lesbians from a place called Mooseland, and... lots of straights! Any reluctance of the local str8boys to attend a gay dance was overwhelmed by their girlfriends' desire to.
Unsurprisingly, Wolf's birthday parties were... epic. Their tiny house was packed with people and weed and booze, and the music was cranked, and the party went 'til dawn. But early on there were always fireworks - Wolf loved fireworks. On one occasion the fireworks were all packed in a wooden box, itself sitting on a platform, on the beach and we were all gathered around, and Wolf lit the fuse. After the first big explosion, the box fell over, and then successive ignitions rotated it - so it was firing missiles in a circle at everyone. Everyone screaamed and ran; some ran away, some towards the box to try to get it under control. All were left laughing hysterically.
He was an enthusiastic motorcyclist and mechanic; I got to help him with an engine and transmission rebuild of his Honda CX500; there are some photos here.
In August, 2016, literally Wolf's other half, JimBain, died, and he started going downhill. Jim adored Wolf and was the one who was meticulous about Wolf taking his medications. Jim's death was sad, Wolf's decline was sad. A year or so later he moved to Windsor, Ontario and that was the last we saw of him.
Cremation has taken place and there will be no visitation or funeral service. A graveside service for the family will take place at a later date in the Westcock Cemetery. Donations may be made to the charity of your choice.
If you have a story about Wolf you'd like to share here, contact Dan.
Here are some photos. You can click to see a full size image.