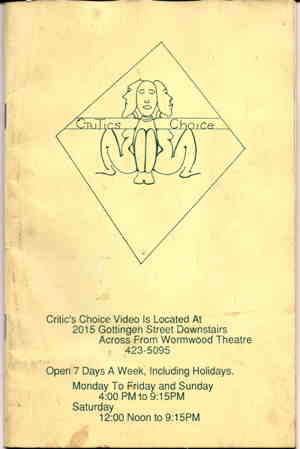 Cover of catalog, September 1989.
"Repertory" Video rental, and had a great selection of serious, not porn, LGBT themed movies.
History
[need date]

Opened by Glynford Hatfield in the Carpenter's Hall on Gottingen St beside WormwoodsDogAndMonkeyCinema

late 1980s?

bought (?) by Gail Atkinson

1989 March - June

DanielMacKay built rental and catalog publishing software

September, 1989

Video catalog published

1993-ish

Lee Anne Gillan working there

1995

bought (?) bought by Lee Ann & with Deanna Bowlby in 1995, it closed in 2000.
HistoryProjectTodoList: fill out this , probably with Lee Anne's help.
This page is part of the HistoryProject.