Wormwood's Dog And Monkey Cinema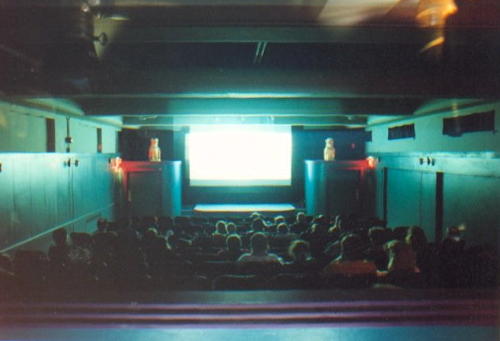 Repertory Cinema in Halifax which had lots of LGBT programming.
History
Wormwood's Dog and Monkey Cinema was founded by Gordon Parsons and Ken Pittman with the first regular screening taking place March 19, 1976. The NFB Theatre was used for screenings in the early years. In 1983, after GAE moved The Turret out of that space, the first Wormwood's full-time home was constructed on the 3rd floor of the building now known as The Khyber Arts Centre. The building had a health food store, The Bean Sprout on the ground floor. Admission was $2.75, screening newer 35mm films and lots of old 35mm classics. With 93 seats Wormwood's grew slowly, building a solid following.
By 1987 Ken Pittman had returned to Newfoundland and Gordon realized it was time to move and began searching for a new location and business partner. Building owner Pangiotakas Brothers left him no choice but to vacate, as they would not offer a lease beyond month-to-month.
Peter Gaskin became Gordon's new business partner and manager of the theatre and a new home was found at 2015 Gottingen Street in the old Carpenter's Union Hall. Gordon stayed in touch with the daily occurrences at the theatre but spent much of his time working on other projects from his SSHRC grant to the Atlantic Film Festival. Peter ran the day to day operations of the theatre in its new location, which saw the theatre grow to 151 seats, a Crying Room, concessions stand, and Critic's Choice Video.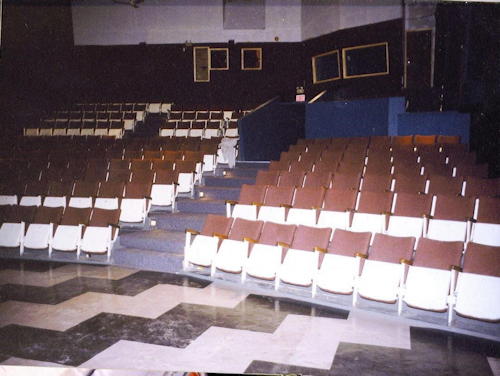 There were plenty of ups and downs in that location as well as the previous spot on Barrington Street, with public protests of controversial films like Hail Mary and The Last Temptation of Christ, poor attendance for some screenings and general disasters from snow storms to neighbouring gas spills. But perhaps the most devastating blow to the theatre was the untimely death of Gordon in June, 1993. Shortly after Gordon's passing, an unstable lease evolved with the bankruptcy of the owner of the Carpenter's Hall, and Peter again began looking for a new location. What appeared to be a terrific opportunity at 2112 Gottingen Street proved to be the undoing of the enterprise. With shrinking attendance, a costly, dysfunctional heating system and waning enthusiasm, Peter left the theatre in October, 1997 and it closed on February 26, 1998.
Ron Foley Macdonald
I wanted fill out some of the LGBT+ programming histories of Wormwoods.
Wormwood's followed the LGBT+ community into spaces not once but twice: the first time into The Turret on Barrington, and then again into the old Vogue Theatre, which Jane Kansas turned over to us. We never did find out what the "Sand Room" was for!
LGBT+ programming was foundational for us. Some gay directors, like John Waters (Polyester, Hairspray) and Pedro Almodovar (Matador, Women on the Verge of a Nervous Breakdown) built up big audiences with each film. I remember Water's Polyester even had the "scratch and sniff" cards to go with the screenings. Gus Van Sant's films (My Own Private Idaho, Mala Noche) were also mainstays. Lesbian oriented films came a bit later -- Desert Hearts, Salmonberries (with K. D. Lang, who I interviewed for Music Express Magazine) and crested with the NFB feature documentary Forbidden Love which sold out many screenings.
Other Canadian films with LGBT+ content included Patricia Rosema's I've Heard the Mermaids Singing and anything by John Greyson (Patient Zero, Urinal) who also benefited from the fact that his sibling lived here, bringing out all their friends and relations.
Another director we featured included Derek Jarman -- whose films Blue and The Last Of England I remember fondly on the WW screen.
Programming
HistoryProjectTodoList: We would like to make a list of LGBT interest movies that were shown at WW.
Merry Christmas Mr Lawrence (1983)
Poetry In Motion (1982) screened April, 1983 (A wonderful doc by Canadian Ron Mann featuring Allen Ginsberg and William S. Burroughs.)
Paris, Texas (1984)
My Beautiful Laundrette (1985)
The Kiss Of The Spider Woman (1985) January, 1986
Sisters (1979) by Margarethe Von Trotta, screened January, 1986
Maurice (1987)
Prick Up Your Ears (1984)
Apartment Zero (1988)
Mondo New York (1988) screened Jan/February, 1989
Anita: Dances of Vice (1987) screened Jan/February, 1989
Matador (1986) by Almodóvar screened May, 1990
Paris Is Burning (1991) . The May 31, 1991 showing was a benefit for AIDS Nova Scotia.
The Living End (1992)
My Own Private Idaho (1991)
The Crying Game (1992)
Jeffrey (1995)
Lilies (1996)
Priscilla, Queen Of The Desert (1994) screened October, 1994 or Nov.
add ones that you remember here
Origins Of The Name
Halifax Morning Chronicle, September 25, 1897, p. 5

Wormwood's Monkey theatre will play at the Academy of Music [on Barrington Street] one week commencing September 27, and will give daily matinees, commencing Tuesday afternoon at 2:30. This company of unique entertainers consist of 31 monkeys and 24 dogs, who execute tricks that are highly amusing. They ride bicycles, turn somersaults, act as waiters, barbers, jugglers, fencers, comedians, and do many surprising and pleasing acts. These sober faced little animals are dressed like little old men and women, and understand and obey at the word of command. The scene at the races is very amusing. The dogs are harnessed to small sulkies and the monkies act as drivers; they make things lively as round the stage each one goes, trying to win the race. Another scene is the "Pardon Came Too Late," and is acted out in most human manner. As an extra attraction the management will present the latest projecting machine with new and startling views, including the Queen's jubilee parade and the Colonial and Indian troops. See the grand jubilee procession and the Queen in her carriage drawn by eight horses, and you will witness a sight of a life time and be as well pleased as though you were there at the time. Another attraction will be H. J. Daniels and his wooden family of talking children who never fail to please.
This public screening is thought to be one of the first in Halifax and was conducted by Edwin Porter, a pioneer of motion picture production.
Stories
Nevin Williams, February 2, 2013
My first trip to the Wormwood Theatre was in October, 1994, by invitation by friend and colleague DanielMacKay and our usual gang of suspects. "Priscilla, Queen of the Desert", was showing, a film that's particularly memorable to me, as it was the first gay-themed film I'd watched that:
I'd seen in a theatre.
that was devoid of naked guys.
had a plot not revolving around sexual or romantic tension.
featured a cock on rock in a frock.
had a sufficient budget to afford a bona-fide and enjoyable soundtrack, which I purchased not long after.
most of all, was shown in an environment that I needn't suppress laughing at the in-jokes I found funny, discovering other in-jokes that others found funny, that I'd not been exposed to prior, nor was subjected to having to hear disapproving comments and groans from the peanut gallery, in reaction to the mildest reference or display of homosexual inclination (contrasted with seeing "The Crying Game" in Park Lane.)
I think the last point is paramount why I feel fortunate to have had the opportunity to see "Priscilla" and a few other films, at such a locale, during my formative years, and why I think it'd be a good thing to re-establish a similar venue, or even work out an arrangement with an existing cinema to allow screenings of similar films, from time to time, in such a way as to separate the general public from wandering in unawares. (Say, separate ticket sales such that unsuspecting folks don't accidentally buy tickets at the box office for a film they're not prepared to see in the presence of a more civil audience).
---
ChrisAucoin, October 20, 2016
Paris is Burning was an AIDS fundraiser on a Friday night. I spotted BenKozak sitting alone in the back row (he had just moved to Halifax that same week and new almost no one - it was also his birthday but I wouldn't find that out till after). I arranged to get introduced to him at the reception that followed the movie (at Rumours of course) where I spotted WilsonHodder talking to him with a few people and I went over to stand beside Wilson. I gave Ben my phone number that night - and he never called! LOL A little over a week later we crossed paths at CrystalCrescentBeach (it was an unusually warm early fall day) and spent the rest of that day / night together and that date became our anniversary - June 9.
---
put your Wormwood's stories here!
This page is part of the HistoryProject.