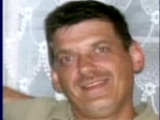 The May 12, 2007 Chronicle Herald says: An ATV rider found the body of Mr Knott, 44, of Timberlea, a former navy cook, on May 5, 2007, in a wooded area.
A former shipmate on HMCS Toronto said he didn't think Knott was gay. "Not while I knew him. I don't think it's true." He said Knott did two tours in the Persian Gulf and eventually left the military for medical reasons relating to the second trip. "He was an excellent cook and a good friend. He's originally from Port aux Basques, NL, and leaves behind him a wife and two children."
Trevor was one of the two men killed in the 2007-05 Murders.