Wayves is the voice of Atlantic Canadian gay, lesbian, transgendered & queer people and their friends including GayWriters. It is published eleven times a year.
Wayves' main page is located at http://wayves.ca/. You can find the distribution locations there too.
Wayves is a volunteer collective created by readers like you, so if you think there should be something in Wayves, write it up and send it! Wayves is always looking for queer-related news, reviews, and events, and especially photos. If you're not sure, email and ask -- we don't bite!
This encyclopedia contains the Nova Scotia portion of the Wayves' GroupsAndServices database.
This page is part of the HistoryProject and PrintMedia.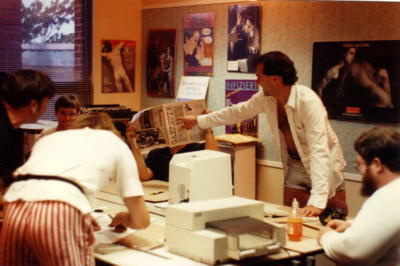 Layout Party - 1992-09. DanielMacKay (standing) & ColinPye (R)
History
February, 1995

September, 2004

February, 2005

November, 2007
Other Media Mentions
December 16, 2007

RosemaryPorter mentions Wayves in a fullpage article about her in the ChronicleHerald, written by MarkBolton?.
---
This page is part of the PrintMedia collection.