Adrian Potter / Pater Innokentios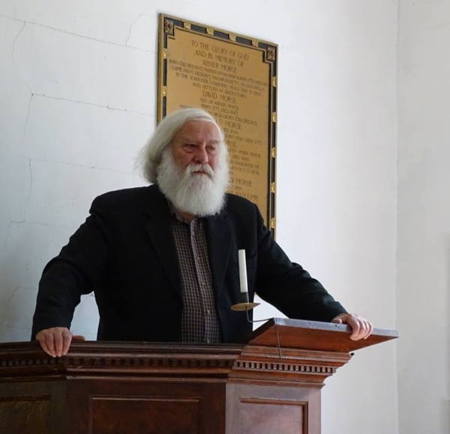 September 2016. Photo by Brian McConnell
June 6, 1949 - November 9, 2016
Born in Annapolis Royal in 1949, Adrian Potter was from his early years an unrepentant traditionalist, often signing his name—invariably with a fountain pen and in a flowing script—Adrian Ruggles Potter, in recognition of his ancestor Timothy Ruggles, on whose life Adrian could converse at length. A Harvard graduate and Speaker of the Massachusetts House of Representatives, Ruggles was one of the leading Tories of New England, commanding the Loyal American Association, a group of American Royalists unalterably opposed to any rebellious assembly or disobedience to the King. In 1775 Ruggles left Boston with the British troops, eventually settling in Nova Scotia where he was given a land grant of 10,000 acres in Wilmot, Annapolis County. Like his forebearer, Adrian was a life-long monarchist. His enthusiasm for family history evolved into a parallel interest in the history of domestic architecture, with a particular passion for construction details of the historic homes of members of his family.
A student of classical languages, after initial study at AcadiaUniversity, Adrian Potter transferred to the University of King's College in Halifax with the intention of ultimately studying for the Anglican priesthood. He subsequently did further study at the University of Toronto's Trinity College, the epicentre of the High Church Anglican tradition in Canada and at the time a bastion of WASP Upper Canadian privilege. Drawn inexorably to the formality of the Russian Orthodox ritual, with its robed priests, sumptuous church interiors, sonorous choirs, and rich ecclesiastical traditions, Adrian decided to enter an Orthodox seminary in New York. Completing his theological training, he was ordained as a Russian Orthodox priest, and just as nuns are given new, religious names when they take their final vows, Adrian Potter became Father Innocent. Adrian had at last found a religious home that fitted perfectly his somewhat baroque view of life.
Although an ordained priest, Father Innocent was never assigned full-time to a particular Russian Orthodox congregation, perhaps because of his incomplete mastery of Russian. Instead he spent extended periods teaching—principally Greek and Latin—at a number of educational institutions connected with the Orthodox church. Adrian was by all accounts an effective and popular teacher. His teaching schedule left him time for his parallel mission in life, that of keeper of a popular country inn.
An intelligent and informed conversationalist, Adrian could captivate his guests with his wide ranging interests and knowledge, particularly of local and personal history, music, or anything to do with the Cadillacs he always drove. A gifted public speaker, Adrian Potter worked with local museums and served as president of the Clements Historical Society for many years.
Adrian Potter / Father Innocent was a true original, never to be forgotten by anyone who had the pleasure of meeting him. His sudden death in November 2016 prompted an outpouring of shared memories by gay men and others who had stayed at Lovett Lodge over the years.
Lovett Lodge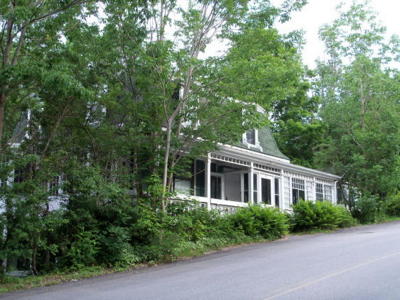 At some point, perhaps through inheritance, Adrian became the owner of what had been the Bear River home of his great-uncle, Dr. Lewis Johnstone Lovctt and his wife Josephine. Built in 1896, the house was a wedding present to the couple from Josephine's parents. Dr. Lovett was a staunch supporter of the Liberal Party, and served as a Member of Parliament from 1920 to 1925. Adrian had great affection for and pride in Dr. Lovett, but as a staunch Conservative ["How can one be both a monarchist and a Liberal?"] there must have been a certain dissonance in his views of his great-uncle.
Dr. Lovett, as President of the Bear River Board of Trade, worked tirelessly to develop the community as a summer resort. It was fitting, therefore, that in the 1970s Adrian should have opened Lovett Lodge Bed and Breakfast in what had originally been the home of his great-uncle. Designed by a New York architect, Lovett Lodge is a Second Empire house, "strategically built" on one of the steep hills that are the basis of Bear River being sometimes known as The Switzerland of Nova Scotia. As a result of its position on a hillside, there is a extra storey on the side and rear. An attractive house, Lovett Lodge has a mansard roof with dormers on each side. Surrounding the entrance is an enclosed verandah that serves as a sunroom.
Click on the image here for a video tour taken by Fran Haver, a visiting friend of MattHughes & RogerJohnson of breakfast and a tour of the Lodge, on July 12, 1994, including Adrian giving tips on what she should shoot next.
The interior was stuffed with antiques, paintings, sets of dishes, canteens of silver, and his great-uncle's medical library, much of it from the 19the century. Also conspicuously present was Adrian's extensive collection of royal memorabilia.
Adrian Potter was the consummate host, although stays at the Lodge were likely to have their eccentric moments. On a Sunday afternoon he might conduct a religious service in the living room if the patrons were receptive to the idea. Another Potter touch was to put a book on each guest's pillow that he thought met their particular interest or inclinations. One of these was a 19th century manual Advice for Young Husbands which was usually a cause for much humour at breakfast the next morning. Adrian was a most gracious host and made sure that guests were aware of the places of interest in or near Bear River. The North Hills Museum at Granville Ferry was deservedly usually top of his list. But, it was not uncommon for him to urge a guest to make a call upon a local resident he thought would be of interest, however such surprises were not always met with the hospitality expected.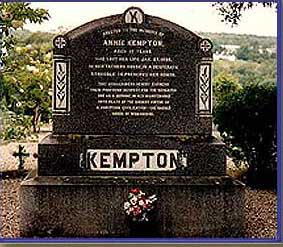 The inscription is to the memory of a young lady......who sacrificed her life in a desperate struggle to preserve her honour....in her maintenance unto death of the highest virtue of a Christian civilization - the sacred honour of womanhood.
Another activity frequently scheduled for guests at the Lodge was a visit to the local cemetery to show them the grave of Annie Kempton aged 14, who died "protecting her virtue". The 1896 murder was a cause célèbre at the time, and had been chronicled both in a recent play and in a manuscript, of which Adrian had a copy, written by his friend the "Birdman" of Yarmouth. Adrian was fascinated by the incident and intrigued by the trial that was not conducted with strict adherence to the rules of evidence but ended in conviction and what has sometimes been termed a lynching. The story of Annie Kempton continues to fascinate and has recently been re-examined by a forensic anthropologist who implicitly throws doubt on the correctness of the conviction.
The inscription is: to the memory of a young lady ... who sacrificed her life in a desperate struggle to preserve her honour ... in her maintenance unto death of the highest virtue of a Christian civilization - the sacred honour of womanhood.
Lovett Lodge catered to a varied clientele. Over breakfast or afternoon tea, guests might encounter tourists from Europe or the United States, or more local travellers. Well known Nova Scotia artist Tom Forrestall and his wife Natalie were good friends and frequent visitors, and at least one major work by Forestall was among Adrian's collection, a drawing of the Lodge itself which was used by Adrian in his advertising.
Lovett Lodge was known by Nova Scotians to be gay-friendly, and Adrian agreed to allow it to be advertised as such in a gay American publication. At the time, it may well have been the only openly gay-friendly inn operating in Nova Scotia. This openness attracted gay men, typically couples and many from Halifax, to visit Bear River for memorable holiday weekends such as Thanksgiving.
Category: Lovett Lodge was one of the early Nova Scotia GayBusinesses.