John Yogis, QC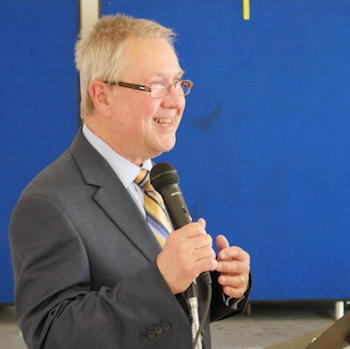 2017
July 2, 1940 - November 23, 2021
John was born in Halifax, attended Saint Patrick's High School Halifax, received his BA degree from Saint Mary's University, and an LL.B. and LL.M. from Dalhousie University. Following his call to the Nova Scotia Bar, he received a second LL.M. from the University of Michigan
He is survived by his longtime partner and husband, Darrell Roy.
Donations in John's memory may be made to Hospice Halifax, or the charity of your choice.
A memorial service was held six days after his passing with Fr. Albert Cosgrove officiating.
---
As a youth, John studied music at the Maritime Academy of Music and had a life-long interest in classical music and in music theatre. He attended thousands of concerts -- in Halifax, London, New York, and Washington; from his adolescence he kept the program of every performances, collecting the signatures of the artists as often as possible. A friend said, "We often had conversations about recitals we'd both attended decades earlier; he could recall the details of the programme in amazing detail. His knowledge of film and actors was encyclopedic."
He was invited to join the Faculty of Law at Dalhousie as the DalhousieUniversity Dalhousie Schulich School of Law's first postgraduate teaching fellow. During his law school tenure John taught a wide range of subjects, was editor of the Dalhousie Law Journal, and editor of the Law School's alumni magazine, Hearsay. He was the author, co-author and editor of several legal works, (below) including the first Canadian law dictionary. He served as Associate Dean of Law from 1993 to 2000.
John taught there for four decades, making him the longest serving professor in the history of the law school, which was founded in 1883, and was one of the most respected professors at the law school, remembered in particular by his students for his Legal Research and Writing course; everywhere one went, his former students would approach him and thank him for his wonderful teaching. If I recall correctly, he received an Outstanding Teaching Award from the law school. Angus recalls being in London with John and, when they were leaving a performance, a man ran out of a pub they were passing and said: "Are you Professor Yogis? You taught my father, and he always talked about you." John was never enthusiastic about changing the name to the Schulich School of Law, so I refer to it as the Dalhousie School of Law as it was called during John's tenure there.
After his retirement, he continued for many years to edit the law school's alumni magazine and wrote many articles, particularly about graduates who went on to interesting careers in fields other than the law.
John actively supported several local arts and volunteer organizations, which included service on the Boards of the Nova Scotia Film Development Corporation, the Dalhousie Art Gallery, Opera East, L'Arche Halifax, and the Friends of the Public Gardens. He was awarded both the Queen Elizabeth II Golden and Diamond Jubilee Medals, and in 2015 was presented to her Majesty the Queen at a reception at St. James Palace that recognized the work of Commonwealth organizations.
An enthusiastic monarchist, he was long time Secretary of the local branch of the Monarchist League of Canada, stepping down just a couple months before his passing. He was honoured by The Queen by being invited to a reception at the Palace in light of his many contributions to the province, country, and society.
He was also founding member and Honorary Treasurer of the Commonwealth Judicial Education Institute, a Nova Scotia charity established to provide support for the creation and strengthening of national judicial education bodies.
His designation of QC is a recognition of the highest class of exemplary work and service in the profession, for a lawyer who embodies the highest ethical principles of the profession and does excellent work, above and beyond what is called for, and also pushed the limits of the law through advocacy or education, often both. In NS there are over 2000 lawyers and only a select few are chosen each year to receive this designation.
Book: Sexual Orientation and Canadian Law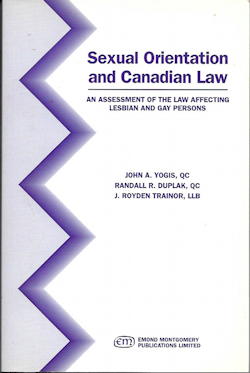 John was quite proud of this 1996 book, co-authored with RandyDuplak and RoydenTrainor?. The book was not a scholarly text; it was aimed at a broader audience of non-lawyers and was intended for anyone with an interest in human rights. Cases are explained in a conversational manner; principal parties are addressed by their first names for clarity.
The chapter on custody, access, and adoption of children contains detailed suggestions are provided as to how to maximize one's chances in a custody or adoption situation. Another provides a basic review of immigration law and its particular impacts on gays and lesbians. Two specific areas are examined: the sponsorship of same-sex spouses, and homosexuals as convention refugees. It includes a material on estate planning, HIV/AIDS and the overlap of sexual orientation and AIDS discrimination, Appendices include examples of wills, codicils, living wills, and documents regarding powers of attorney.
The book contains a thorough overview of the law in 1996 in Canada; since the environment was changing so quickly and dramatically at the time, it is now somewhat a historical document.
In a review published in the Dalhousie Journal of Legal Studies, Michael Beggs says, "Yogis, Duplak, and Trainor provide a timely and valuable contribution to the already burgeoning literature on the subject. Overall, the authors provide a solid work backed by thorough research and written with admirable clarity."
As a result of the book and his broader involvement in supporting diversity, in 2007 his friend Judge Sandra Oxner created an endowment at Dal that funds the Yogis and Keddy Chair of Human Rights at the Dal Law School.
John was also author of
Legal Writing and Research Manual (1974, with I.M. Christie; many reprints)
Canadian Law Dictionary (1983) This book is a concise guide to legal citation supplemented with information on relevant source materials, particularly in cases and statutes. It defines important legal terms, describes the Canadian court system and presents The Canadian Charter of Rights and Freedoms in its entirely.
Involvement with the Halifax LGBT Community
John and Darrell offered their beautiful back yard as one of the venues for the very first Pride Week Garden Party in 2004, along with RandyDuplak and RoyHall?.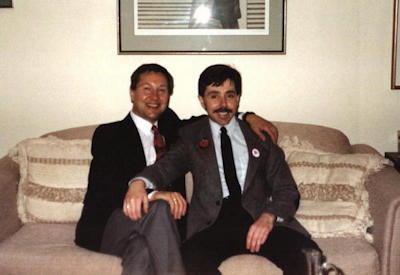 John & Darrell, May 1988
Dan MacKay writes: It's been a long, wonderful few decades with John; I don't know where to start with stories. One of my favourite was his passionate love for the restaurant in the Park Vic, Le Bistro which it seemed was Johns' second... or perhaps first, kitchen. Small social events happened there quite regularly. Larger ones were catered affairs at John & Darrel's, in the meticulously groomed garden during clement weather. Most often the wine would be Carlo Rossi's, the kind in the 1.5 or 3L jug shaped bottles, which happened to be also the right size for my wine consumption. I asked John to save some for me, and I have twenty or so as a peculiar but cozy and practical keepsake. Out of many events at their place, I particularly remember a soiree with the first out-of-the-closet Member of Parliament, Svend Robinson, and a quite formal invitation, champagne, morning suits and an early morning (because the wedding was in London) celebration of a royal wedding and dressing up with Norval in our matching seersucker suits. It was probably Prince Andrew & Sarah Ferguson's wedding in July, 1987. John was always ready for a serious conversation, or a silly one, or one about an opera diva or Broadway star.
---
John contributed to the Halifax Rainbow Encyclopedia; you can find all pages which mention him by clicking on the name link at the top of the page, just below the "gay bookshelf" logo.
This page is tagged: CategoryPerson