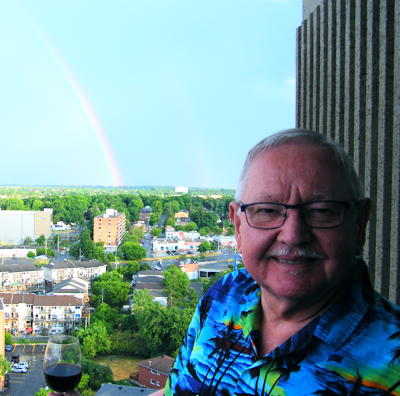 Canada Day 2020. Photo by Roger Johnson
Matt Cordell Hughes
Matt was born in San Antonio, Texas on July 17, 1941. He lives in Ottawa with RogerJohnson, his partner since the early 1980s. He became a Canadian Citizen in 1987. Matt and Roger were legally married in Toronto on June 16, 2003.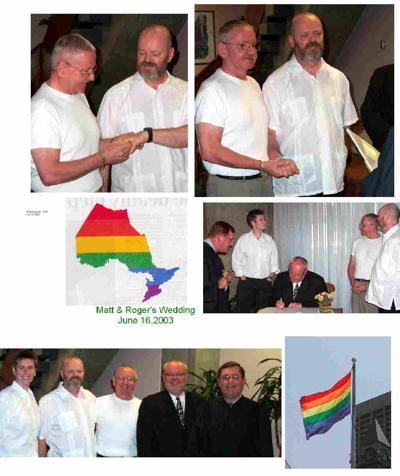 A pioneering activist whose 1984 challenge against AcadiaUniversity secured the first same-sex spousal benefits from a Canadian school, he was also instrumental in starting a gay social organization for the students at Acadia University. They succeeded in late 1986 / 1987.
During his tenure (1969-1996) at Acadia University, he reported the university's administration to the Nova Scotia Human Rights Commission every time there were homophobic comments made by faculty and students, particularly if they were associated with the Acadia Baptist Divinity College. While it resides on campus, the divinity college is not formally part of the university.
Matt taught a wide variety of music courses and always taught piano, fortepiano and music history: his music history classes were called "Out of the Closet" and "Queer Composers 101" by music students, as he was not afraid to talk openly about gay and lesbian composers and performers, particularly when no references could be found. He has published with the University of Texas, Yale, Columbia, Dalhousie and the University of Toronto Presses. As a fortepianist, he has performed in Canada, the U.S.A., and Europe. He has recorded with CBC and ATV television. In 2009, Matt donated his fortepiano to the Canadian Opera Company to be used in performances of operas by Mozart, Donizetti, Rossini and Bellini. He has given masterclasses to the members of the COC's piano staff and worked with the Ensemble Studio's apprentice accompanist in the autumn of 2009 in preparation for an all-Schubert lieder recital at the new opera house.
In 1987 Matt presented a paper at the Homosexuality And Social Tolerance conference at Université de Moncton. Here is his paper in the proceedings. (20 pages, pdf) There are a couple photos from this conference in Matt's media file.
Matt and his partner Roger were both delegates to the NDP National Convention that elected Alexa McDonough as leader. They believe they were the only gay couple in the country not supporting Svend Robinson. Matt was talking with Alexa when Svend came across the floor to give her his support.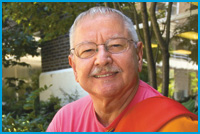 2007 In 2007, Matt's work with the Toronto Home For The Aged was documented in Toronto Xtra and The Toronto Star. He served on the Community Advisory Committee for Fudger House Home for the Aged in Toronto. In addition, he is co-founder of Fudger House's Molly Wood Senior Social Club. This is the first such known club in a home for the aged, and serves as an educational and social outlet for LGBT residents. Matt was appointed in 2006 (?) to the City of Toronto's Diversity Committee for the Homes for the Aged, the mission of which is to prepare a toolkit to be used to make all 10 such homes safe environments for LGBT seniors. The toolkit has been distributed nationally.
Matt has been President of two national organizations: The Canadian Federation of Music Teachers' Associations (1989-1991) and the Canadian Lesbian and Gay Archives (2003-2005). While President of CFMTA, he was able to organize a successful national campaign to exempt private music lessons from the GST and the PST. As President of the CLGA, he was able to find it a permanent home as a gift from the City of Toronto.
Other Articles