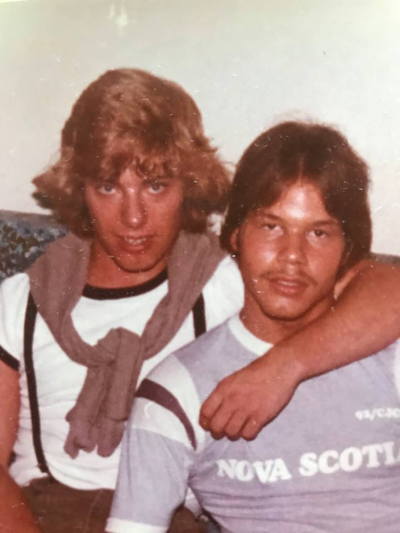 AndyBrooks & DarrylKenney, 1982. Photo by JimDeYoung
Andrew Bernard F Brooks
B. 1961, d July 22, 1996 in Bellingham, Washington, USA.
Born in Windsor, NS, son of Bernie Brooks of Middle Sackville & Leola (Spence) Reilly of Rawdon. Survived by sisters Dorothy Astey of Sackville; Bernardine (Mrs Bruce Davidson) of WIndsor; Tammie (Mrs Steve Forrest) of Sackville. Donations to any charity.
There's more about Andy on FredBerringer's page.
ScottMacNeil says: He was FredBerringer's partner and was with Fred when he died. Years before that he lived with me at 89 Fairbanks St., Dartmouth. When I ended that, he hooked up with Fred (among others) There are pictures of him in JimDeYoung's Albums .....
From a Net Conversaton
A very pretty and a nice guy. He was one of the hustlers in the early '80s and Fred took him in, and they stayed together till Fred died. Andy then met up with a Doctor from New York and moved there for the rest of his life.