Arthur Sniders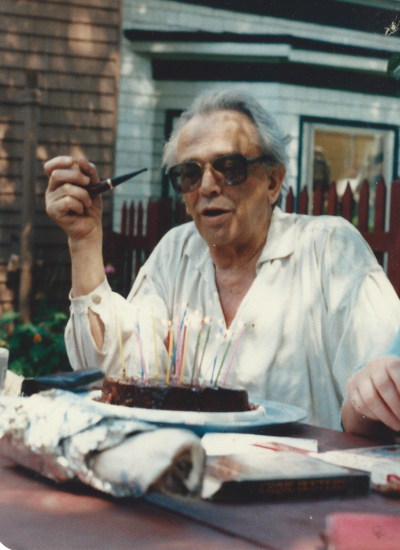 Birthday party, Gottingen St, 1980s.
July 20, 1921 - October 12, 2003
GAE Boardmember & activist.
Arthur Sniders was born in London in 1921, the younger son of Alfred Sniders and Gertrude Sikolski Sniders.
In the late 1930s his father sent him to Norway, where he remained until the Nazi invasion. A host family helped him to learn Norwegian, and the younger daughter Amy Margaret ("Siri") Jebe -Steensaas later became his first wife.
During World War II he served with the British Army, reaching the rank of Sergeant. While stationed in the Shetland and Orkney Islands he worked as a translater for Norwegian seamen escaping the Occupation to join the Free Norwegian forces. He later was posted to Kenya, India, and Burma.
In the late 1940s he worked in England in his father's fish business before emigrating to Hamar, Norway. There he operated a market garden, worked in the forestry, and taught English as a second language. Following Siri's death in 1966 he qualified as a Welfare Nurse. During his student years he worked part-time at a gay club in Oslo. He immigrated to Canada in 1978, and was employed for many years as a Psychology Assistant at the Abbie Lane Hospital.
He was a long-time member of GAE/GALA. During the early 1980s he served as chair of the Management Board and later as chair of GAE. [HistoryProjectTodoList: get dates]
Renaissance music was one of the great pleasures of his later years. He accumulated dozens of CDs featuring Spanish, Sephardic, and Latin American music of the 1400s - 1600s, and was generally seen wearing headphones.
A longtime smoker, he suffered from pulmonary disease that after 1997 required him to use a ventilator. From December, 1997, he lived in the Halifax Infirmary and later in the Victoria General Hospital. On rare occasions he was able to make a home visit for gatherings with family and friends.
In 2001 he married his long-time partner, LynnMurphy.
He died in 2003.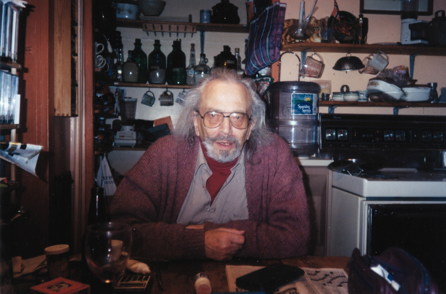 Kitchen at Gottingen St home, between 1986 and 1996, listening to music, working a crossword, and enjoying a glass of wine. Photo taken by LynnMurphy.