James John Blaine Linden
November 24, 1952 - December 24, 2016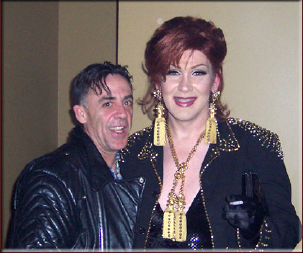 Blaine & LuluLaRude, 2004
From Louisdale, Cape Breton, Blaine was a longtime owner and employee at many of the GayBars in Halifax; in the early 1990s at StudioBar and then, in 1995 the owner of LeCruz on on Spring Garden, and later the ill-fated Vortex on Gottingen 2003-2005, and right after that, a long and glorious run from the very beginnings of MenzBar... and through it all a tireless and very fun presence in Halifax's drag community.
His obituary says, "Memorial donations can be made to St. Anne Community & Nursing Care Centre in Arichat or to the Prostate Cancer Society, or to the charity of one's choice."
---
This CategoryPerson page NeedsContent, NeedsBio, and NeedsPicture.