Café DaPoPo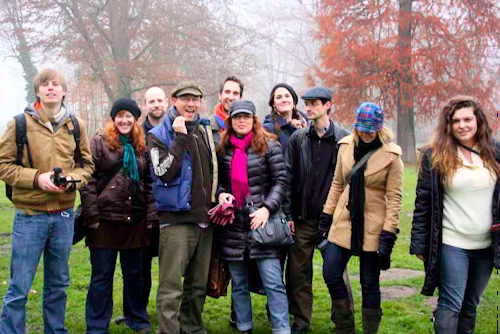 23 November, 2011
Click here for the official website!
On January 28, 2007, the last Thursday of the month, seven of the artists associated with DaPoPoTheatre? – Bonnie Archibald-Awalt, Eric Benson, Stephen Bourque, Sarah "Pip" Bradley, Andrea Dymond, Mike Chandler, Kim Parkhill and GarryWilliams – made a bit of local theatre history when they concocted an evening of performances tailored to taste called Café DaPoPo.
Since then, Café DaPoPo has surprised and delighted audiences at over a dozen venues including MollyzDiner, MenzBar, Good Food Emporium, Just Us Café, Ouro Preto, the Delta Barrington Hotel, the Casino Hotel, the Ward Room, Ducky's On the Waterfront, Maritime Museum of the Atlantic, the Grad House, the TNS Living Room, Restaurant La Crepule, museum FLUXUS + and Freies Museum Berlin.
Over the years, we have teamed up with Halifax Pride, Crêperie Mobile, Queer Acts, the Diocese of Nova Scotia and Prince Edward Island, the MayWorks Festivals and the Playwright's Atlantic Resource Centre (PARC) to bring Café DaPoPo to new and larger audiences.
Scores of Nova Scotia artists have sung, acted, played instruments, danced, improvised, recited poetry and performed at Café DaPoPo over the years to hundreds of patrons. They have performed works by Canadian playwrights and songwriters, as well as excerpts from classic works of world theatre. Our most recent cast included Kristi Anderson, Eric Benson, Andrew Chandler, Ann Doyle, Zach Faye, Keelin Jack, Kim Parkhill, Matt Peach, Amy Reitsma and Garry Williams.
We owe our gratitude to the tax-payers of Nova Scotia and the Industry Growth Program of Nova Scotia Communities, Culture & Heritage for assisting us in the promotion Café DaPoPo to European presenters in 2011.