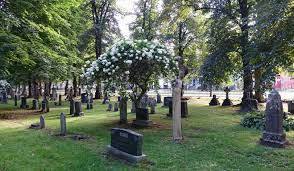 2018
Notorious cruising area from 1974 to 1989, when the city began locking the gates at night.
DanielMacKay writes: "As a student at Dal in the early 1980s, this was the ultimate gothic experience, to be wandering around moonlit tombstones looking for sex. The sex happened in the bushes, near trees, and yes, on the kind of tombstones that are like tables."
On 1988-11-05, John William Tha Din was beaten to death there by three young men. The full story can be found in the HalifaxPrideSouvenirHistoryMagazine.
RobinMetcalfe's poem night cemetery references this murder. There is a link to it here and an archival pdf in the H•R•E files.
This page is on the HistoryProjectTodoList:
This page is part of the CruisingAreas & part of the HistoryProject