Annual gay camping weekend at Camp Carter, just behind the Seal Island Campground at the base of Kelly's Mountain in Cape Breton on New Harris Road.
2005
September 23, 2005 - 25
Admission: FREE.
Food will be served and will be FREE
Other details all the same as previous years.
As per the ad in WayvesMagazine, and per Louis, CampItUp is male-only this year.
In order for Louis to plan enough food, etc. please call to register. #'s below.
2004
Camping weekend: July 30, 2004 - August 2, 2004. Food was not supposed to be provided, but Louis cooked up a storm and everyone ate very well :-) The registration fee couldn't be beat at just two dollars!
Most people showed up around 4:00 - 5:00 on Friday and had camp made before dusk. There were a number of 5th wheels & Winnebago and a few people brought linens or sleeping bags and slept in the bunkhouse.
Events during the weekend:
dances each evening, DJ from Toronto
horseshoes, hiking, nude swimming in the lake
high tea, visiting each other's tent, kibitzing.
chilling !!
Five minutes away on the other side of the Seal Island Bridge there are numerous restaurants.
For more information, call the Harrison Group at 902.564.6939 or 902.567.5292 and ask for Louis.
There is a small slide show here: http://bonmot.ca/~daniel/campitup/
Camping is a great way of MeetingPeople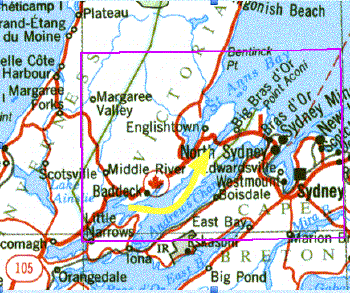 BaraCuda writes: Camp Carter is an amazing Spot! Located at the base of Kelly's Mountain, I have done tons of camping as boyscout there and wanted to share some details of the landscape for those not familiar with Camp Carter. My favorite spot there is a 40ft (approx.) waterfalls located on a river that runs down from the mountain accessed by a path that is located near a bridge at the entrance to the campground. Also down river from the waterfalls you will find various rock caves to explore. You will find many hiking paths leading up and down Kelly's Mountain. Bring your camera! You will find many opportunities to use it. In addition to the wooded areas, you will also find gravel roads to mountain bike on, plenty of open fields to play ball, horse-shoes, play lawndarts or whatever. I missed the opportunity the last few years to attend this event.. but come hell or high water I am going this year.. see you there!