Chuck Gillis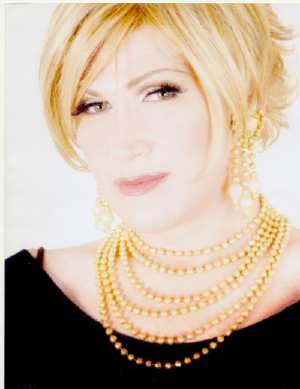 2006
November 12, 1963 - February 8, 2007
On January 30, 2007, in a posting on his website, Lulu LaRude, a.k.a. Charles McDuff Gillis, shared with us that his cancer was getting worse and doctors had given him about two months to live.
"I do know that in the meantime I am fortunate to find and fill some wonderful times with my friends and one and only true family, my mom and dad and of course my beloved bro and sisters," Mr. Gillis wrote in what proved to be his final web posting on www.lulularude.com.
"They have never failed me and are there for me every minute.
For his husband, Billy:
"Billy, what can I say but you are simply the most amazing man. Every gay couple out there should be deeply jealous. There is no one like you and never will be."
Born in Fredericton, N.B., on November 12, 1963, Charles was the son of Joseph and Alexina (Jordan) Gillis. Throughout his life, he was a successful make-up artist, and had a natural flare for this passion. Affectionately known as "Chuck", he will forever be remembered for his love of photography, and as being the entertainer who had a huge heart. It is as the often acerbic but always witty Drag Queen, Lulu laRude, that Chuck will be mourned by the Gay community across Canada, especially in Edmonton, Toronto and Halifax, where he made his home. He deeply loved his family, and he was special to all who loved him. He will be greatly missed and never forgotten by his husband, William "Billy" McDuff Gillis; by his parents, Joseph and Alexina Gillis; by his brother, Joseph and sisters, Mary, Kathy, and Jo-Ann; and by his many nieces and nephews. His memory will be treasured by special friends, Priscilla, Trudy, Darrin, Kieran, Neon, Trash, and others, too numerous to mention.
See ChuckGillis Eulogy for the beautiful, moving and thoughtful eulogy delivered by DarrinHagen?.
Chuck's personality and that of his drag persona, LuLuLaRude, are intertwined, so please visit that page too.
November 2004

NxetMagazine says Thanks to Chuck Gillis of Making Faces referring to Chuck's business. Its web page was http://www.makingfacesmakeupandmore.com/ and also mentions Priscilla Love.

March, 2006

documentation of this icon of the drag community in Halifax should be on the HistoryProjectTodoList.