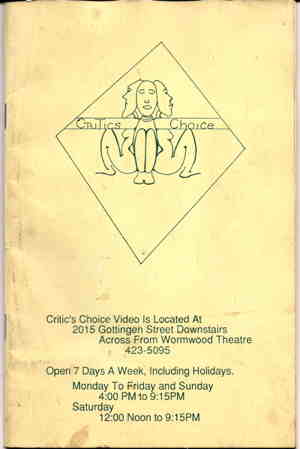 Cover of catalog, September 1989.
"Repertory" Video rental, and had a great selection of serious, not porn, LGBT themed movies.
History
January 27, 1988

Opened by Glynford Hatfield in the Gottingen Street Carpenter's Hall basement beside WormwoodsDogAndMonkeyCinema

late 1980s?

bought (?) by Gail Atkinson

March, 1989 - June, 1989

DanielMacKay built membership, rental and catalog publishing software

September, 1989

Video catalog published

1993-ish

Lee Anne Gillan working there

1995

bought (?) bought by Lee Ann & with Deanna Bowlby in 1995, it closed in 2000.
HistoryProjectTodoList: fill out this , probably with Lee Anne's help.
This page is part of the HistoryProject.