Dan Sanford, 1949-05-04 - early '90s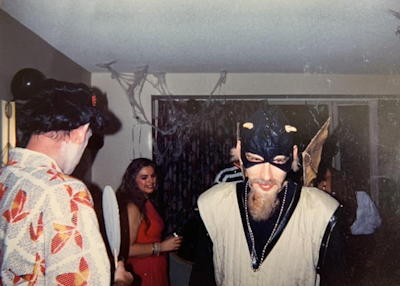 MertMattice writes:
I met Dan in 1972 when we both lived on Brenton Street; Dan, Rand and I were all born in 1949, of course making us as old as Newfoundland; he was from Walton, NS. He was one of the funniest and fun people I've ever known.
The photo: Dan on the left, back-to; at 6ft+ he was hilarious as a geisha. That's WilliamNoonan? wearing my gargoyle costume (William is too nice a guy to pull of a gargoyle though). Dan was working as a ship chandler and dealt with Japanese business men. He wore that outfit to the hotel they were staying at and they were greatly amused.