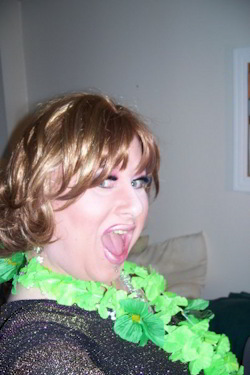 Circa 2009
As of July 2009 residing in Cape Breton, Nova Scotia.
profile Name: Dawn Davenport
DawnDavenport writes on 12th July 2006: Hello,Hello, Hello, well well well, it has come to my attention that someone has informed the public that i am no longer performing,well allow me to make a correction.I am not actively performing, but intend to grace the stage again, when the time is right.I am not in Halifax, but i am in a place where I am working fulltime and doing well for myself.I noticed in the pride addition of Wayves, my letter to LuLu Made it which i am pleased.Gives spotlight to us big girls.So anyways...Hope youall have a wicked pride, have fun and miss you lots, Ciao
DawnDavenport writes: Hope everyone had a wicked pride. I hear things went awesome in the commons.I want to send out a thank you to Rouge Fatale for accepting my apology and for still wanting to be friends.You are an awesome girl and I want everyone on hear to know that.Espcecially through all the drama that is happening.Love ya girl.
DawnDavenport Writes: I have changed my page to correct and try to let ppl know that i still see DEBBIE DIAMOND as my mother and that will never change.Amanda is a mentor to me
AmberWayvesDiamond writes: Happy Birthday Sista. Love your friend in arms, Amber :)
AmberWayvesDiamond writes: Merry Christmas Sista, & A Happy New Year
LadySchapeau writes: Get a new pic, you look like you got punched in the nose, lol. love you to pieces...or in your case, a whole loaf of toast, LMAO! Lovesya!
AmberWayvesDiamond writes: Daw, Dawn, Dawn, Fix that nose man, I man Gurl. You look like someone socked you one. Call me!
AmberWayvesDiamond writes: Dawn, Show some Maritime Pride in Subury gurl. So missed :(
BrooklynDaniels writes: I am excited we gonna be in Toronto gurl
DawnDavenport writes: Well hello everyone... its been a while hasent it.. just poppin in to let you all know that i am still around and that if things go well, i will be moving back to halifax ns next year. Hopefully , get involved in the drag scene again. Hello to all the new queens on the block. miss you all
DawnDavenport writes: now that I have been back in Halifax for the last 2 years, I have been getting the itch. Drag itch I should say. So, that means new style and new songs. I'm also on the hunt for a new drag mother. I do not have contact with my old drag mother. I'd appreciate learning the news tricks of the trade. The type of drag songs is like to do is comedy. What's out there???