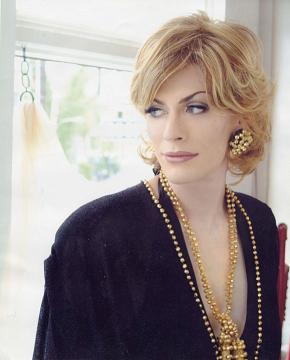 [ DiamondFamily ]
Profile
Lady Erica Schapeau. Her Drag Mother is DebbieDukeDiamond, and she has many sisters like: RhodaCox, Shaunda-LeighTaylor?, ChynaWhite?, Val, VeronicaFoxx, DawnDavenport, AmberWayvesDiamond, and many more. She has several drag daughters and sons, all of whom admire and respect their drag mother. Debbie is the best (drag)mother in the world!! Thank you LuLu for making me look like a woman. Dita: thank you for all the advice and friendship you've given me these past few years. Ok kids I gotta run and eat something.
Website: http://www.geocities.com/amberwayvesonline/ladyericaschapeau www.myspace.com/hatboi29
Bits and Bites
HERO - Northstar
QUOTE - "It's called stupidity, sugah. The colour of a persons skin, the shape of their eyes, bad genes...if you want ta hate a body bad enough, any old reason'll do ya" - Rogue to Iceman, Uncanny X-Men #38.
MANTRA - to thine own self be true
FOOD - food
BAR - reflections, duh!
QUEEN - Ma
DISLIKES - fast food, negativity, fear, sexism, ignorance, homophobia, heterosexism, heterophobia, irresponsibility, dayd lewis, guns, labels, racism, smoking, terrorists (they just ruin everything), violence, george w bush (he just ruins everything), drugs, bad drivers, facism, bullying, abuse.
KNOWN FOR - legs, legs, kind nature & legs (and eating)
WILL NEVER BE SEEN DOING - dead people, animals, scat, children & females
Comments
SharonBedz writes: To Jean Grey, love you to pieces. Booga. Cover that eye girl. Give me one of those care bears! Oh, and your cat is evil.
AmberWayvesDiamond writes: Erica you have been a good friend. And although we argue, and do wrong things we still remain friends. You have always been my performing partner, and I hope you continue to do so. I have so much fun with you at ReflectionsCabaret. Take Care LadySchapeau writes: YAP! Sharon, my cat's not evil, he's gay, i have a gay pussy :)
Erica its Marie ( or what is left of her ) Just wanted to shout HI where as this is the only place online you have! I guess You need something done with a website? let me know ASAP and I will put you online. it seems no one else has. BTW you are the BEST!
Jezabel writes: Hello Mother dear... yes its been an aweful long time, Im sorry havnt kept in touch - things are different here in Toronto. Good to see you're still on top of things - good luck in all that you do - take it easy Erica, your lil girl misses you a lot, you will always be my number one mom!
rougefatale writes: HA!*holds eye and smiles while tipping over a glass and making a tear* loves you gurl... will always be in my heart and will always sleep on my couch!
LadySchapeau writes: YAP! And pizza, too! :)
LadySchapeau writes: Fat Christ, MOST grand photographs, thank you ChuckGillis @ Making Faces Make-Up and More and Angela Davies from Cheerful Pictures - Lady Erica Schapeau Diamond
 wouldnt even know its you
Bobby Thomas writes: my gawd, is that really u?????? bobby thomas here, remember grade 3 when those guys beat you up and broke your glasses? they should see these pics!! they might wanna treat you with respect this time :) love you buddy :)
hi baby, after last night i got one thing to say to you... honey, that fat, hairy and unloved piece of turd isn't worth your time. i know ignore won't work, but honey, if you look THIS good, then do it up. crank up your fabulous flame and burn him into a piece of toast.....or in his case a whole loaf of toast hahaha, peace baby - The Fabulous Miss Chocolate Love Cherry Pie Eatin' Mother Fucka herself...Harriet Mae Jaskson PS see you online tonight ;-)
lilly patterson writes: hey erica,,long time luv you to death,,email me
holy poop, nice pics
how does one go about meeting you and ....well........treating you like the goddess you are? :)
---
RougeFatale: lol.. ha ha ha .. the Goddess of Twitch Eyes and Boney Ass
LadySchapeau writes: this coming from the Goddess of the Full Body Twitch and Object Knock-Overs?................YAAAP lol
FionaJefferies Writes: Can I see your hands please? LMAO
Joey Bakerville writes: wowee, you were right! You look stunning. I like the red hair better because I have a fetish for redheads hahaha. So who's the idiot saying you suck, cause you sure don't look too bad to me!
LadySchapeau writes: Heya Joey, thank you for the compliments. I have no clue who's saying I suck, considering the community here it could be anyone LMAO Anyhow I am getting a bit better (well trying to anyway hahahaha) keep a lookout, I might wow these anonymous assholes yet :D
JuicyFruit: girl, you probably already have wowed them all and they all jealous now. I think its grand...YEAPPPPPPPP!
AmberWayvesDiamond writes: Merry Christmas Sista, & A Happy New Year
LadySchapeau writes: What a dump! Ya can't express your fucking opinions without someone jumping down your throat! Fucking Brits! What else are they going to call a fag??? A wristwatch?!!! "Hey, Girl, I think we missed our bus cause my FAG says its 5 after 10 " LOLOL Idiots.....