Gay Artists Musicians Entertainers Society Of Atlantic Canada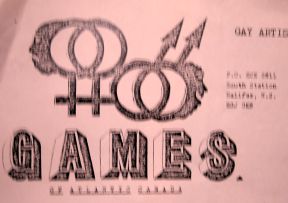 GAMES: Gay Artists Musicians Entertainers Society was incorporated on March 29, 1981 and lasted two, perhaps three years.
The Memorandum of Association states that the activities of the society are based in the Halifax-Dartmouth Area. The Objects of the society are:
to educate our members on all aspects of stage performances, and
to educate the public on all aspects of the gay community.
EmeraldGibson says: They produced shows for their own benefit, but more so to promote gay entertainers such as Female Impersonators and those with musical talent, both voice and instrument-wise, and not just in gay society and culture in Halifax but in straight society as well.
A voter's list shows 52 voting members.
On February 15, 1981, GAMES held a Cabaret & Buffet at The Turret; there were 214 paid admissions and another 45 guest passes were given out. GlennWalton & JimMcVicar? played piano; a number of other people performed. 500 programmes were printed; 200 for the GaeGala mailout and another 300 for the event. There is a scanned event door pass list in the media folder.
There is a 1981 Voter's list in the media file for GAMES. HistoryProjectTodoList: type in the names mentioned here, and also a February 15, 1981 event door pass list. and a November 15, 1981 party invitation list.
Other notes refer to a cabaret on May 17th and 18th.
Memos from RegGiles on March 26, 1981 to PatrickMurphy? and JohnTate? ask them to resign by March 29th unless they are going to attend meetings more regularly.
A letter from JimDeYoung states that he'll resign as Vice Chair and Technical Director due to some disagreement with JohnMarr as-of March 29, 1981.
A poster advertises a "Constitution / Special Resolution" meeting on Nov 15 1981 and elections for Board Of Directors on Nov 22nd 1981 at the Community Centre, Tartan Building #201, Blower St.
Female Impersonator's Code Of Ethics
The code, known as the "Proverbial Code of Ethics" was especially directed towards, and for, those who were female impersonators and wanting to become one. The code required those who wanted to get into the scene to make known their intentions with another drag queen with senior stature or who had been performing for some time. When we had three or more new queens, we gatherd the older drag queens to sit and watch in private those wishing to become one. They then graded and crtiqued each performer on their performance, lip sync'ing, music, costume and make-up. Each performer had to be fully ready to perform at 5PM on a Sunday evening. If they made it through then they had to perform that same night in front of an audience or on the next date there was a chance to perform. All this was done because of the massive influx of drag queens wanting to come onto the scene and perform, there were just too many and a way was needed to keep it under control. Nowadays this is not done in Halifax and the drag queen scene has expanded so much.
The code comes in after the above. "No other entertainer was allowed to perform a song or number done by another entertainer without the permission of the entertainer who had originally done the song and having that permission witnesed by another or in writing." This code was written in such a way so that it could be used by live musicians and performers. The code helped avoid many arguments at the time of someone doing someone else's song and the code at the time was respected by anyone who wanted to perform.
RegGiles says: There was no affiliation with Sparrow Group. To-do:check documents about events held together and word it correctly.
DanielMacKay can interview LorneIzzard about it.
Minutes indicate that they drafted (in fact, EmeraldGibson typed) a "Female Impersonator's Code Of Ethics" in early 1981. Would be fascinating to get this.
This page is part of the HistoryProject.