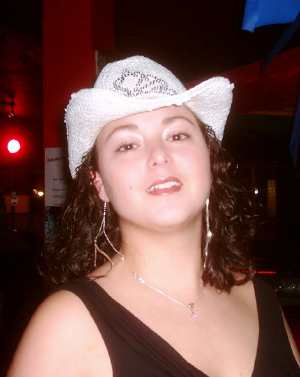 Blue Moon, 2006
aka Lisa Brine. She's a singer and you can check out her website at http://www.musecube.com/harmony/index.htm. Halifax's new Deputy Pride Ambassador III, and also the new MzLeatherNrg.
I don't see how she is a drag queen
Maybe it's because she's not?
LadySchapeau writes: I love it when people post comments here without posting their names, lol. Chickenshit much, fellas? ;) Anyway, it is understandable why people look at Harmony here and go, "WTF?!!" considering she's no drag queen. So, yes, she probably has no place on our page, that is to say, she should be posted on an "Other Halifax Performers" section. But drag is about stepping out of the ordinary into something extraordinary, something more fabulous than usual. That said Lisa Brine stepping out as Harmony Angel sometimes could be considered a type of drag of sorts. It's not the same drag as us, but it could be considered drag for her. As performers, suckass or not, we all have a different stage name, or drag name. "Harmony Angel" could be considered along those lines; it could be her own "drag name." That said, she possibly does have a right to be posted here. After all she's queer like the rest of us, so why not include her with us. By the way, anonymous posters can be found out through a little something called technology and an IP address. For example, name or not, you'd know it was me posting a remark because it would be my computer's IP address and no one else's. Thought you guys would want to know that. ;)
DivadDivine writes: Personally I have no problem with Lisa aka Harmony Angel being included on the Drag Queens page. She is an awesome person and performer!! There's my two cents on this issue. Harmony sweetie Love ya gurl!
DanielMacKay writes: remember, people, any nasty comments left unsigned can be deleted at anyone's whim. If someone writes garbage - just delete it.
Does Harmony want to be known as a drag queen or as a gay performer. Either way she can sing like an angel.