Live And Let Live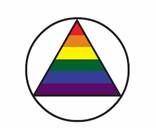 As of July, 2022, Live And Let Live is no longer meeting.
History
If you are LGBT and have a drinking problem, there is help and hope for you.
Live And Let Live is Halifax designated LGBT friendly Alcoholics Anonymous group. Of course, homophobia is not tolerated at any AA meeting, and Live And Let Live is open to all regardless of sexual or gender identity.
Gathering
Live And Let Live was the host for the annual August gathering of LGBT AA, NA, Al-Anon, and friends. It's documented on the page CourageRoundup.
The Story of Live & Let Live
By Mike A.
Live and Let Live had been meeting around 1980 in a room upstairs at Hope Cottage. The Meeting was sponsored by Father MikeMacDonald. The meeting folded due to lack of participation.
In the spring of 1982 two new members to AA, Robert B. & J.J. L. decided the meeting should be restarted and had their first meeting on April 23, 1982. The first year meetings varied in size from 3 to 10 people and it took place in a number of locations including member's living rooms. During the early years we occasionally had a brunch at a member's home and there was a great sense of community that a lot of us had not felt elsewhere. Here are the minutes from that very first meeting.
In October, 1984 a few members went to The Gratitude Roundup in Toronto. One member was floored to discover Gay Al-Anon. People who were actually willing to stick with a gay alcoholic while he worked through his problem. The Roundup was large and showed us that gay people could come together and put on a meaningful gathering.
Around 1985 to 1987 we met at a house which the GAE owned named RadclyffeHall. That building was sold and we moved again
In the late 1980s the meeting moved to the Field House on the Commons. This location is well remembered by many because of the difficulty they had in finding it. One new member slipped on the ice outside the Field House and fractured his arm. He lost time from work and had to sue the city for lost wages.
We moved to the basement of St. Mary's Basilica and were there for a number of years. On occasion we had a meeting where those who were gay were outnumbered by those who were not. I mentioned this one night and a man from New Jersey said, "Turn about is fair play !" We me at this location for several years until construction caused us to seek a new location at St. Matthew's United on the other side of Barrington St. about 2004.
Over the years there have been people who came to Live and Let Live who told us that they found AA in general overwhelming or unwelcoming. However, they stayed with AA because our meeting seemed friendly and caring and eventually they became strong enough to go to other meetings.
For the last few years, the announcement looked like this:
Face-to-face meetings:
When: Mondays from 7:30 to 8:30
Where: St. Mathews Church, 1479 Barrington Street (Barrington at Spring Garden.) Find the outside steps that are on the right / south side of the building and use that entrance. You can bring your own coffee, tea, water etc. but for now we're not allowed to bring food or beverages to share.
You don't need to call ahead or register or know anyone there. Just show up.
This page is part of the HistoryProject.