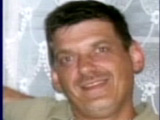 Michael "Paul" Knott, 44, of Timberlea, a former navy cook, was fatally stabbed on May 1, 2007 in his car while parked near CitadelHill. An ATV rider found his body on a path four days later in southwestern Nova Scotia.
At 17, the handsome Paul Knott left Port aux Basques, Newfoundland to join the Navy, serving as a cook until his retirement in 2003. Based out of Halifax, where he raised his family, Knott did two tours of duty in the Persian Gulf and served with NATO peacekeeping forces on the Israel/Sinai border.
A former shipmate on HMCS Toronto said he didn't think Knott was gay. "Not while I knew him. I don't think it's true." He said Knott did two tours in the Persian Gulf and eventually left the military for medical reasons relating to the second trip. "He was an excellent cook and a good friend. He's originally from Port aux Basques, NL, and leaves behind him a wife and two children."
Left to mourn his passing are his mother, Kathleen; wife, Margaret (Warren); daughter, Jennifer, East Dover; son, Andrew, Grande Prairie, Alta.; sister, Kathy (Norman) Strickland, Hatchet Lake; brothers, Tom (Doris), Grande Prairie, Alta.; Reg (Carol-ann), Dartmouth; nieces and nephews; family, friends, and neighbours. His father, Eric, predeceased him in 1981. A memorial service was held in St. Timothy's Anglican Church, Hatchet Late, on Thursday, May 10, with Rev. Lisa Vaughn officiating, and the funeral service was held in St. James' The Great Anglican Church in Channel, N.L. on Saturday, May 12, with Rev. Canon Dr. Hugh Fudge officiating. Paul was laid to rest in St. James' Cemetery in Barachois Hill, N.L., beside his father.
Michael was one of the two men killed in the 2007-05 Murders.