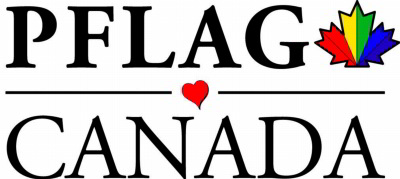 PFLAG Canada - Halifax, NS
Pflag Halifax is an LGBTQ2+ support, resource & education network helping people navigate sexual orientation, gender identity & gender expression issues.
Support meetings are held the third Wednesday of every month at Halifax North Memorial Library
For more information or to volunteer, please contact halifaxns@pflagcanada.ca or call 1.888.530.6777 ext 574.
Learn about Pflag on their Facebook Page.
Pflag was started back in 1972 by Jeanne Manford - there is an interview of Jeanne Manford on YouTube? http://www.youtube.com/watch?v=zCYZ5VC42v0
History
February, 1994

The Halifax Group started by a small group of gay and lesbian individuals, however after a year, this group stepped back and let the mom's and dad's run it. The goal was to support and educate parents, family members and friends who had g/l/b/t loved ones in their lives.

February, 2006

Contact on the PFLAG Canada Site: RonGarnettDoucette

2008

RonGarnettDoucette writes: At our last meeting/social this Sunday [December 7, 2008], it was decided that the Halifax PFLAG group dissolve. This comes mostly from a dwindling membership over the past number of years and a lot of the mom's and dad's who were involved, were no longer in need of support. I'll miss the monthly meetings but have to agree with their decision. The 15 years I've been involved, I've met some wonderful people.
"Support, education and resources. Meetings were held in individual homes."

April 2, 2009

PFLAG returns to Halifax; first meeting held at the YouthProject.

2018

Pflag in Halifax revived again, with new capitalization, "breaking away from the old acronym 'People for Lesbian and Gay' to 'People for loving and growing' or more broadly we support everyone one their journey around sexual orientation and gender identity and expression to safe and inclusive spaces where everyone has the opportunity to thrive.
External Links
This page is part of the HistoryProjectTodoList
Who have been involved in its lifetime?
Why was the meeting location chosen?
What were major activities over the life of the organization?