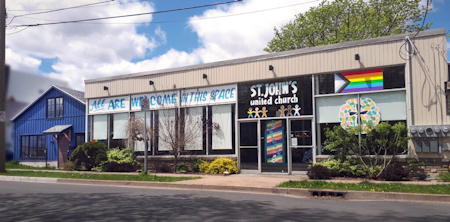 St John's United Church
An "Affirming" or very gay-friendly United Church since the 1990s. They were Q-friendly in the 1990s, possibly before, and became officially Affirming in 2007.
Location: 6025 Stanley St
Consult the website for service times or to book a meeting with the minster.
Full Wayves Magazine article here.
See ReligionLinks for other gay friendly Churches.
History
?

Hosted the SafeHarbourChurch Christmas Dinner for many years.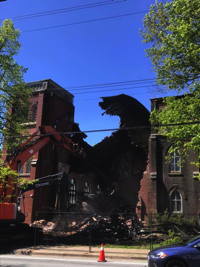 September 23, 2007

After a decade of discussions, officially became Affirming

January 4, 2009

The building has reached the end of its life. Today was the last service at 2570 Windsor St (at Willow) Halifax. The congregation's meetings moved to Lilian Piercey Concert Hall at the Maritime Conservatory of Music
Dan Conlin took some photos on this day; they are on line here. Dan writes: I selected exterior views that have the welcoming rainbow on the sign and threw in a couple of the march to the new location at Chebucto School.

February, 2011

SPIRITPlace is proposed as a re-use for the lot: a re-sized church plus a 65-unit LGBT-friendly housing development. See the December, 2010 and March, 2011 WayvesMagazine articles. The plan was eventually scuttled by the church's Willow Street neighbours with concerns about traffic, shading etc.

June 7, 2019

The building got the wrecking ball

2022

Move into their new space on Stanley Street
This page NeedsContent: a history of becoming Affirming. AlStewart talks about it in his interview.