SPIRIT Place: LGBT-Positive Seniors Residence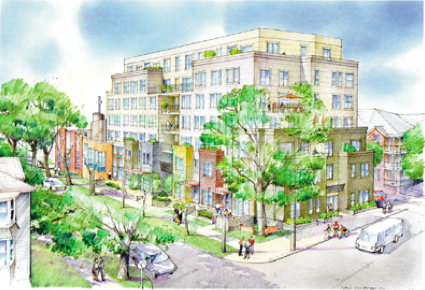 2010 Architect's Rendering
In 2010, St John's United Church proposed an LGBT-Positive Seniors Residence where the church currently was on Windsor Street at Willow. City Council decided to defer approval of the project until after a public input process could be completed.
The proposed development included approximately 65 LGBT-positive residential units, church offices and worship space, parking, and community meeting facilities.
After months - years? of back and forth with city council and anti-project activism from the neighbour, the organizers of Spirit Place gave up. Ten years later the site was redeveloped as a huge condo building instead.
The project was featured in Wayves articles
On February 6, 2011, WayvesMagazine and the ElderBerries hosted a public meeting with a presentation by St John's United boardmember LouisaHorne?. Here is the CBC Radio piece by Paul Palmeter.
The website for the project was spiritplace.ca