Thackeray's Restaurant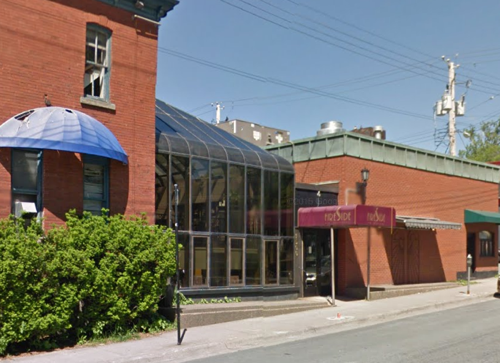 Thackeray's was in business at 1500 Brunswick Street from approximately 1981 to 1998. Early on, LGBT folk and others began to notice severe homophobia from the management - specifically, anything other than "straight couples" were refused service.
In 2012, the original owner, Don Webster, bequeathed the entire business to Wendy MacPherson and Rick Shanks. MacPherson became secretary-treasurer of the business, and Shanks president. On March 19, 2016, the building and the rest of the block it was on, was demolished.
Mini Stories
JanetConners: In '83 or '84, I was there with a woman friend, and we were told that we would not be served, because they had a rule against serving two women dining alone together. I was just a dumb, uninformed young woman, and I remember being outraged that the rule was about being gay. I suppose the person who wouldn't serve me, presumed I was gay -- they didn't ask.
ScottMacNeil: I frequently went there on Sundays for the brunch -- it was the best deal in town. But then, after winning the bronze medal at the 1988 Winter Olympics for ice dance, my good friend RobMcCall called and wanted to go out and celebrate. We agreed that Thackeray's would be a good starting point -- but we weren't served, because, we were told, that Thackeray's had a rule against serving 2 men dining alone. From then on, I took my business elsewhere.
RandyKennedy: In '85 or '86 I was escorted out of there and told "My Kind" are not welcome there and I should go somewhere else.
GerryJones: I was refused service, completely ignored then asked for I.d. even though there wasn't a hope in hell I was under 19. When I couldn't produce any I was told to leave. That would have been mild eighties.
LeaRoy: I remember in the 80s we were allowed in, but our friend was told his kind were not welcome. Needless to say did not go back there.
GlennWalton: I was evicted with my partner one night during the dark days in the 80s when Kevin Keefe ("O'Keefe"?) was the owner (he later ran for the Conservatives in Halifax, people!) who was trying to rid the Seahorse and some of his other bars of gays -- one of his strategies was to play country & western music! My roommate at the time was so incensed by the eviction that he went down in the dark with a can and brush and painted a protest slogan on the very building. In case you think we were imagining this, a well known and very-much-liked waiter who worked for Keefe in various bars at that time (he quit over this, actually) confirmed the prohibition to me later.